May 2022
Curried Cauliflower Soup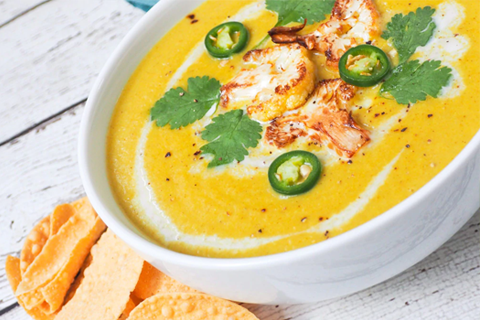 Prep: 15 mins | Cook: 35 mins | Servings: 8

This creamy Curried Cauliflower Soup is easy to prepare for Bariatric Patients. It's infused with Indian spices and ginger, a great source of antioxidants: Simple and perfect for the liquid and pureed stage! Healthy, delicious, and high in fiber, we've covered your gut and taste buds!
___________________
Allergens
Contains yeast, sulphites, milk, gluten, and wheat.
Ingredients
6 sprigs curry leaves

2 garlic cloves, crushed

1 brown onion, coarsely chopped

1 large cauliflower, cut into florets

1 large potato, peeled, coarsely chopped

1 large green chili, seeded, finely chopped

4 cups chicken or vegetable stock

1 cup light cream for cooking, a cream alternative

1 scoop BN Fiber

2 tbsp vegetable oil, extra, to shallow fry

1 tbsp finely grated ginger

2 tbsp mild curry paste

2 tsp vegetable oil

Pappadums, to serve
Method
Heat the oil in a large frying pan over medium-high heat. Add the onion, garlic, ginger, and chili and cook for 5 minutes or until the onion softens. Add the curry paste and cook for 1 minute or until aromatic.

Add the cauliflower, potato, and chicken stock and bring to a boil. Reduce heat to low and simmer, occasionally stirring, for 20 minutes or until potato and cauliflower tender. Remove from heat. Set aside for 5 minutes to cool slightly.

Transfer the cauliflower mixture to the blender's jug and blend until smooth.

Return to saucepan. Place over low heat. Add the cream and stir to combine. Cook for 2 minutes or until heated through. Taste and season with salt and pepper.

Heat extra oil in a small frying pan over medium heat. Add half the curry leaves and cook for 1 minute or until crisp. Transfer to a plate. Repeat with remaining curry leaves.

Ladle soup among serving bowls. Top with curry leaves. Serve immediately with pappadums, if desired.
Notes
If you prefer, you can use curry powder instead, but only 3 tsp-1 tbsp as it's more intense in flavor.

To freeze: Follow the recipe until the end of Step 3. Transfer to an air-tight container and freeze for up to 3 months. To reheat, defrost and continue from Step 4.
 ___________________
Related Recipes
Anti-Inflammatory Chicken & Ginger Soup
Miso Soup
Healthy Porridge Bowl