BN Fiber
BENEFITS
BN regular post-surgery is important
SOLUTION FOR
Prevents constipation & stabilises blood sugar levels
TASTELESS
Dissolves instantly to drinks & food
FREE shipping on orders over $80.
Same-day shipping for all orders placed before 12pm on weekdays.
Get ready to supercharge your gut health with BN Fiber! This all-natural fiber derived from corn is formulated to help you enjoy all the amazing benefits of a healthy gut. BN Fiber gently helps ease constipation, boost immunity, and satisfy you throughout the day.
Fiber is key to keeping cholesterol in check, removing toxins from the body and helping to regulate healthy blood glucose levels. Most of us must reach near the daily requirements of 35-40g fiber daily.
As well as being totally instantised, BN Fiber is absolutely flavor and texture free, so you won't even know it's doing all the good things behind the scenes!
Adequate amounts of daily dietary fiber powder are essential for maintaining digestive regularity, and increased fiber intake has been associated with several protective health benefits.
The best fiber powder - BN Fiber, can provide you with an added boost to your gut support:
100% soluble corn fiber
It tastes and feels like water
Easily dissolved powder - no clumping or gelling
Mixes perfectly in hot and cold drinks, various food and cooking
No sugar, artificial sweeteners or colors
Gluten-free
Increased calcium absorption by up to 12% with regular use
Whether you are looking for something to add to a drink of water in the morning or you are looking to add some extra fiber goodies to your meals and snacks, BN Fiber works for both.
The powdered form of the fiber means it dissolved into everything without the worry of clumps in your morning smoothie. Its tasteless fiber powder makes it even more versatile than other fibers.
We are all about making adding beneficial fiber into your everyday diet easy without compromising taste. So what are you waiting for? Get ready for a healthier you with BN Fiber today!
---
What is fiber?
Fiber is a carbohydrate; it cannot be broken down into sugar molecules. It is essential for weight loss, blood sugar control, cholesterol management, digestion, and regularity.
Fiber is the indigestible component of plant foods (such as vegetables, fruits, grains, beans, and legumes). It helps with bowel motions by passing through our digestive tract and absorbing water.
---
The Benefits of Fiber Powder:
Consuming fiber has many advantages, including improved health in several medical problems.
Increases the speed at which food exits our bodies
Fiber can decrease cholesterol
Lowers the risk of cardiovascular disease
Natural treatment for constipation and irregularity
Aids in weight loss
Helps to normalixe hormone levels
---
The Difference Between Soluble vs Insoluble Fiber
Fiber is soluble and insoluble; both should be included in your diet.
Soluble means that it may be dissolved in water and digested by your system. When water is added to soluble fiber, it transforms into a gel-like substance and expands in size. This implies helping you feel fuller for longer.
Soluble fiber sources include
Oats
Nuts
Seeds
Fruits
Vegetables
Insoluble fiber, however, does not dissolve or is digested. It will travel through your digestive system in a state similar to its original. Whole grains and bran are examples of insoluble fiber. While it cannot be digested, it can help you stay regular by adding weight to your stool.
100% Soluble Corn Fiber


Amount Per Serving
% Daily Value
Calories
25


Carbohydrates
5g
2%
Dietary Fiber
5g
18%
Vitamin D
0g
0%
Calcium
0g
0%
Iron
0g
0%
Potassium
0g
0%
* The % daily value tells you how much a nutrient in a serving of food contributes to a daily diet 2,000 calories a day is used for general nutrition advice.
Stir 1 scoop of BN Fiber into at least 30-50ml to your favourite beverage* or food, dissolving instantly.
When mixed in beverages, consume immediately or store covered in a refrigerator for no more than 24 hours.
When mixed with foods, consume promptly or store appropriately.
Do not use it if the seal is broken or missing.
If pregnant or nursing, consult your healthcare professional before use.
Store tightly closed in a cool, dry place.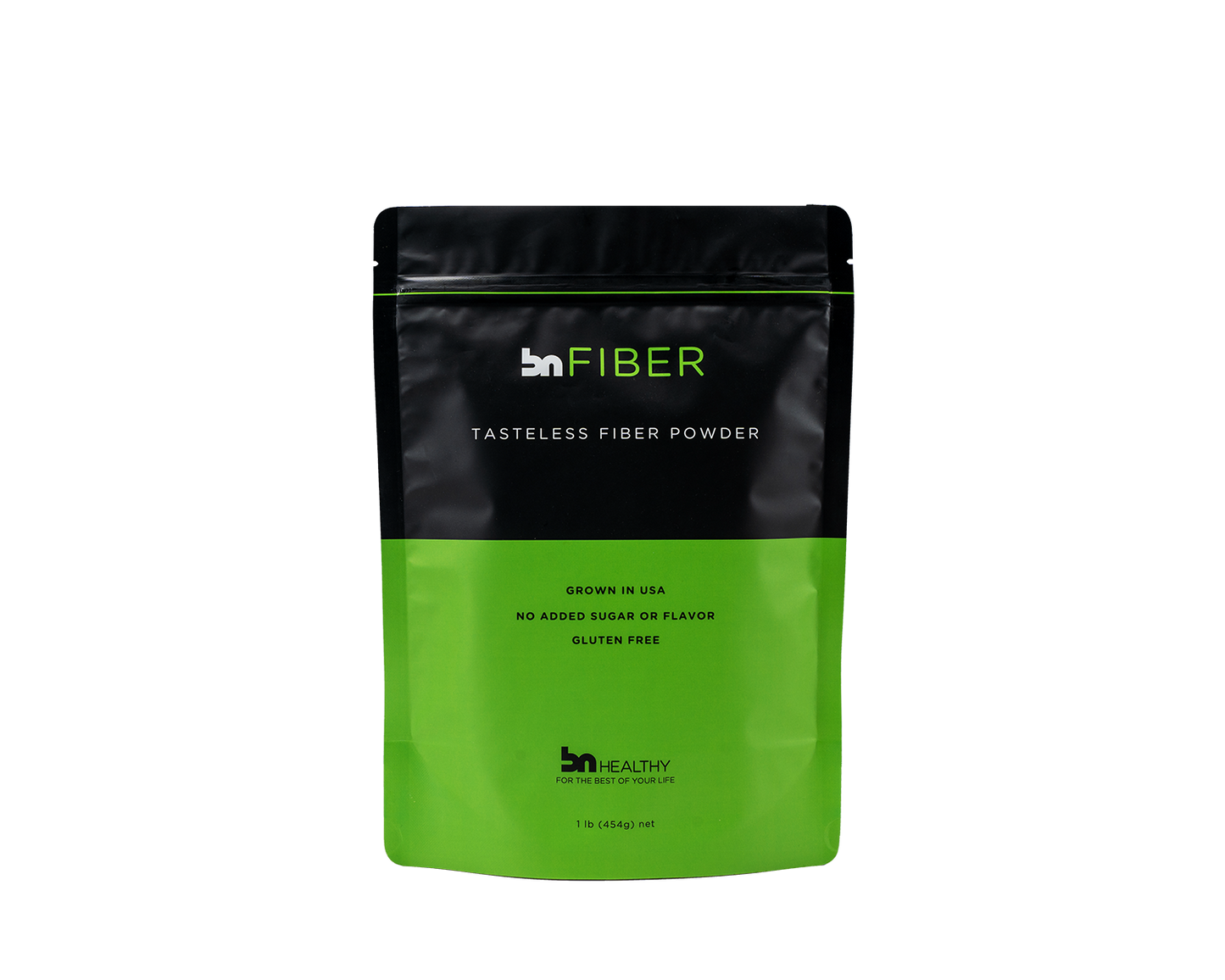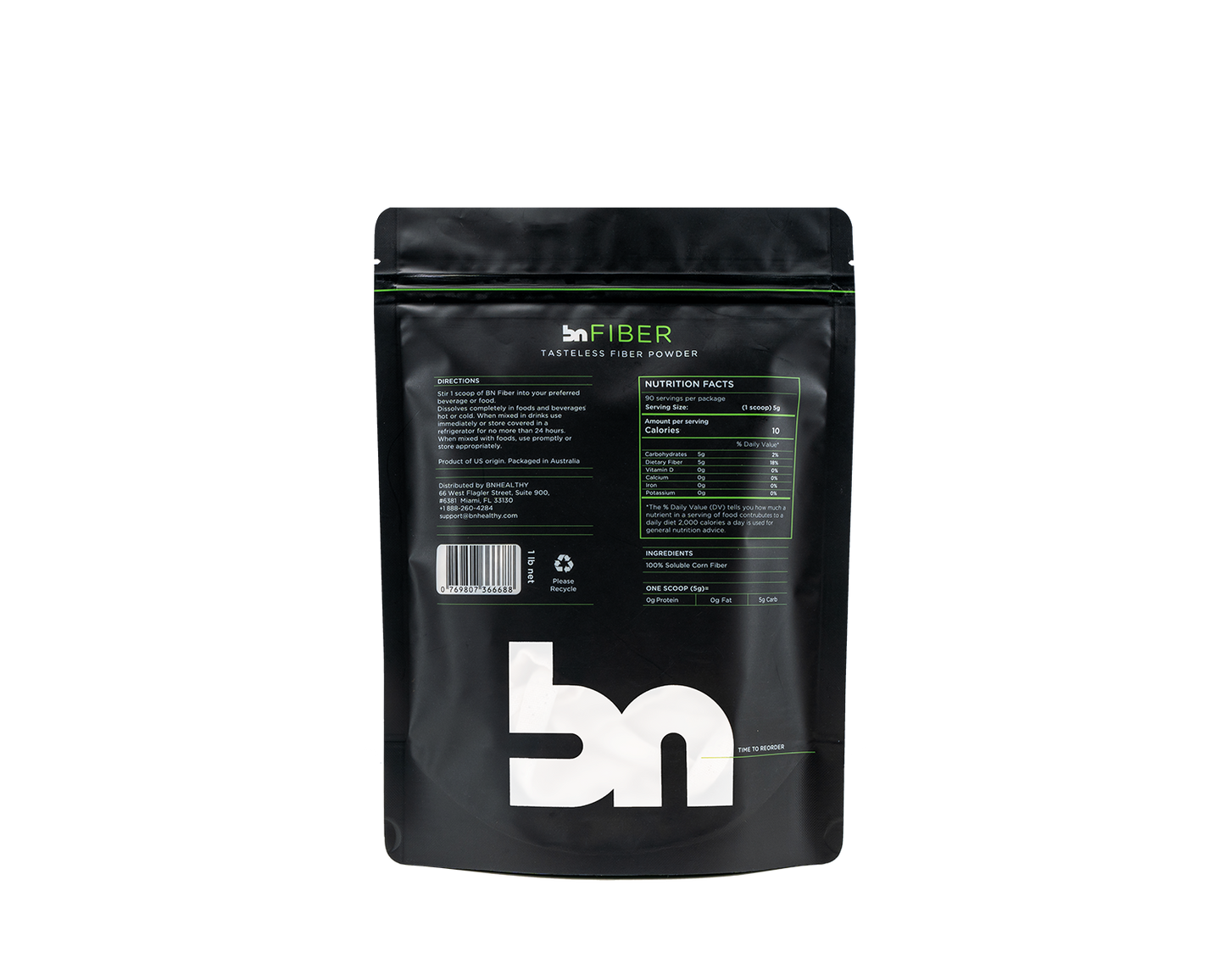 Frequently Asked Questions
Our Qualified Nutritionists are here to help you make the best choice when it comes to you and your health.
Fibre has many benefits after Bariatric Surgery, with slowing down digestion making you feel fuller longer, which can help with weight loss and weight maintenance.
Fibre takes longer to digest and stabilises blood sugar (glucose) levels that benefit WLS patients with Type 2 Diabetes. Patients with a high fibre diet will improve bowel regularity and decrease experiencing constipation.
Many adults do not consume enough fibre daily; most Australians consume 20–25g of fibre daily. It is recommended that an average person needs to consume 25-40g of fibre daily.
Yes, you can take your BN Fibre with your BN vitamins and supplements, as it will not impact absorption.
Yes, BN Fibre can help treat constipation, including for those who have chronic constipation or Irritable Bowel Syndrome (IBS), as it contains soluble corn fibre. Soluble corn fibre supplement is known for regulating the speed of digestion, stabilising blood glucose and having better absorption of nutrients.
BN Fibre powder is a transparent, taste-free and completely soluble corn fibre supplement that is non-thickening, so you can cook with BN Fibre without affecting it and changing the taste or consistency of your food.
Total 5 star reviews: 17
Total 4 star reviews: 4
Total 3 star reviews: 0
Total 2 star reviews: 0
Total 1 star reviews: 0
100%
would recommend these products
It works

A good product easy to use.

Great product

I add this to my water bottle every morning along the tasteless collagen protein. Takes a little while to dissolve, but I don't notice it when drinking my water.

Very Effective

Great product, just 2 scoops are day is all i need. Very easily digested
Reviews Loaded
Reviews Added