BN Pure Pro - Whey Protein Isolate Powder
BENEFITS
Aids fat loss & curbs cravings
SOLUTION FOR
Prevents muscle tissue wastage during rapid weight loss
TASTELESS
Can be added to any food & drinks
FREE shipping on orders over $80.
Same-day shipping for all orders placed before 12pm on weekdays.
When it comes to a fast-absorbing protein powder that will deliver over 26 grams of Pure Whey Protein Isolate per scoop - BN Protein is the supplement for you!
It is nothing else but what you need - chosen explicitly for Weight Loss Surgery patients - Pure Whey Protein Isolate for sustained release and satisfaction. BN Protein is an unflavoured WPI grass-fed powder that is versatile for those who want additional protein to their favorite meals and beverages.
This protein powder holds nothing back and provides the pure protein your body can rely on.
When you take BN Protein, you'll:
Absorb protein fast and digest it quicker due to the high-quality whey protein isolate in the blend
Improve muscle repair and recovery
Keep you feeling full between meals
Ensure enhanced and sustained weight loss, not muscle loss
So why use this whey protein isolate powder?
High in protein
The complete amino acid profile
Less than 1% carbs or sugar
High bioavailability – easily digested
Pure, premium quality whey protein
Gluten-free and sugar-free
No artificial colors
Low lactose
You are giving your body precisely what it requires to see your results come to life.
Using quality protein powder before and after your workout or when you need a protein boost can make or break your goals, so you must have the proper protein powder on hand. So get BN Protein on your side!
---
Why is protein important?
Proteins are composed of chemical 'building blocks known as amino acids. Amino acids are used by the body to create and repair muscles and bones and produce hormones and enzymes.
As a result, it is crucial in forming and maintaining every cell in your body. Therefore, it's an essential component of any diet since it fuels your cells, providing the energy required to stay active.
---
Protein deficiency can lead to;
Hair loss
Slow wound healing
Lowered immunity
Hormonal imbalances
Low mood
ASMBS recommends post-surgical bariatric patients states between 60-80g per day.
BN Healthy supports Weight Loss Surgery patients with a simple and beneficial way to reach their daily protein goal.
---
Whey Protein Isolate: A Superior Protein Delivery
Not all WPIs are made equal. Some WPIs are manufactured under harsh conditions, robbed of much of their bioactivity, and thus become less effective.
This whey protein isolate powder is scientifically processed under strict conditions to maintain its high level of naturally occurring essential and branch chain amino acids.
---
How to Use Whey Protein?
You may add whey protein powder to your smoothie, baked goods, meals or as a snack replacement that you blend with water to increase satiety and reduce overindulgence.
If you're going to work out, you might want to drink a whey protein smoothie afterwards, or you could simply combine your whey protein powder with water.
---
What is the Best Whey Protein Powder?
Pure whey protein isolate is the best option for bariatric patients. It is easily absorbed, and because all of the lactose is eliminated during the process, it is gentle on the stomach—especially if you are lactose intolerant.
Whey Protein Isolate, Sunflower Lecithin (0.02% trace). Contains Milk
| | |
| --- | --- |
| | Amount Per Serving |
| Energy | 492kJ |
| Calories | 117.6Cal |
| Protein | 27g |
| Carbohydrates | 0.9g |
| Sugars | 0.3g |
| Fat Total | 0.4g |
| Saturated | 0.1g |
| Sodium | 46.8mg |
Add 1 scoop (30g) of BN Pure Pro WPI, providing you with 27g complete protein to your food (i.e. pudding, mashed potatoes, yoghurt), smoothies or baked foods.
Consume product once daily with adequate fluid intake or as directed under medical advice. Always read the label and follow the directions for use.
Do not use it if the seal is broken or missing.
Formulated supplementary sports food
Not to be used as a sole source of nutrition
Not to be used by those under the age of 15 or pregnant women.
Allergen: packed under HACCP conditions in a facility that also packs dairy, nuts and dried fruit.
Store below 25C.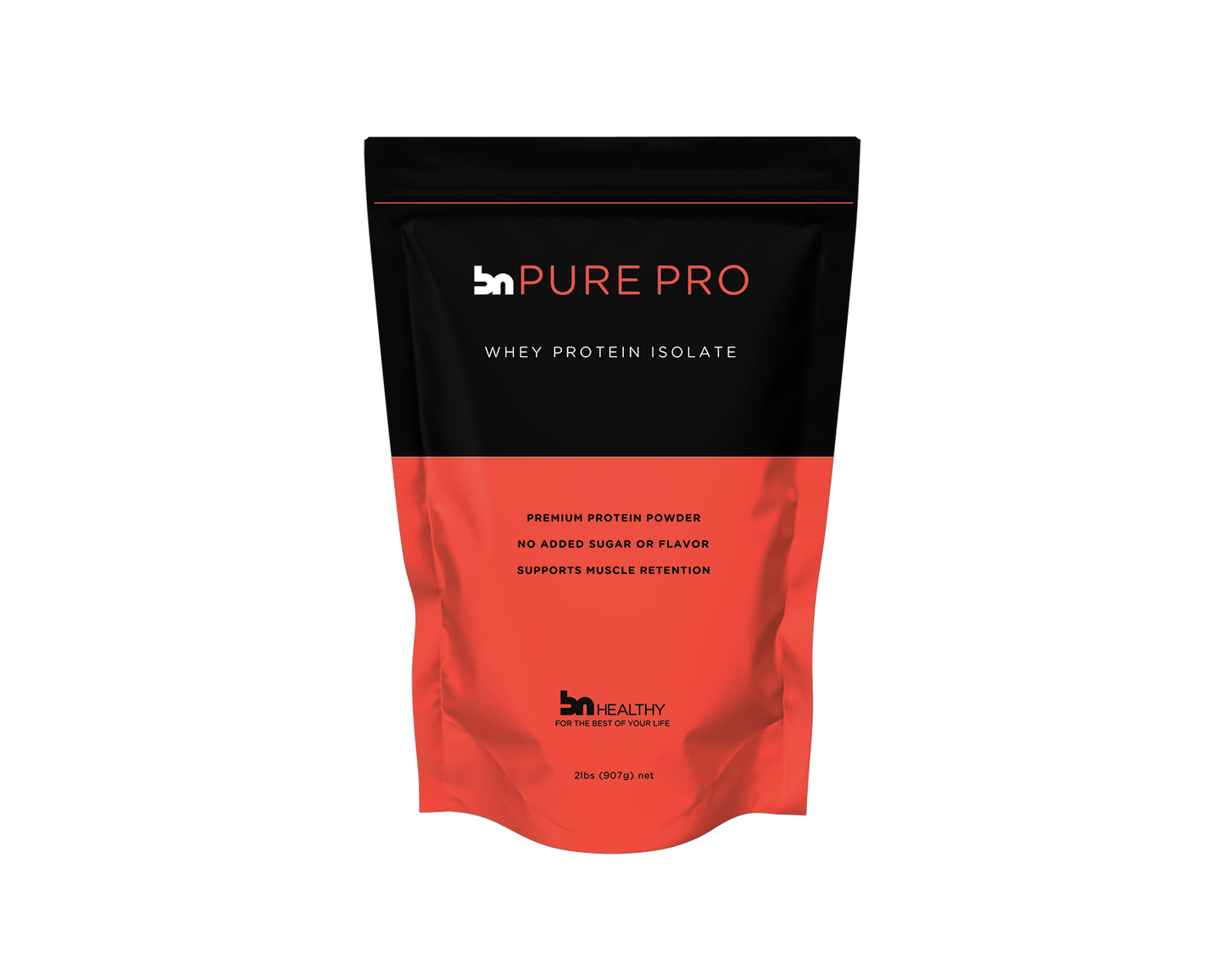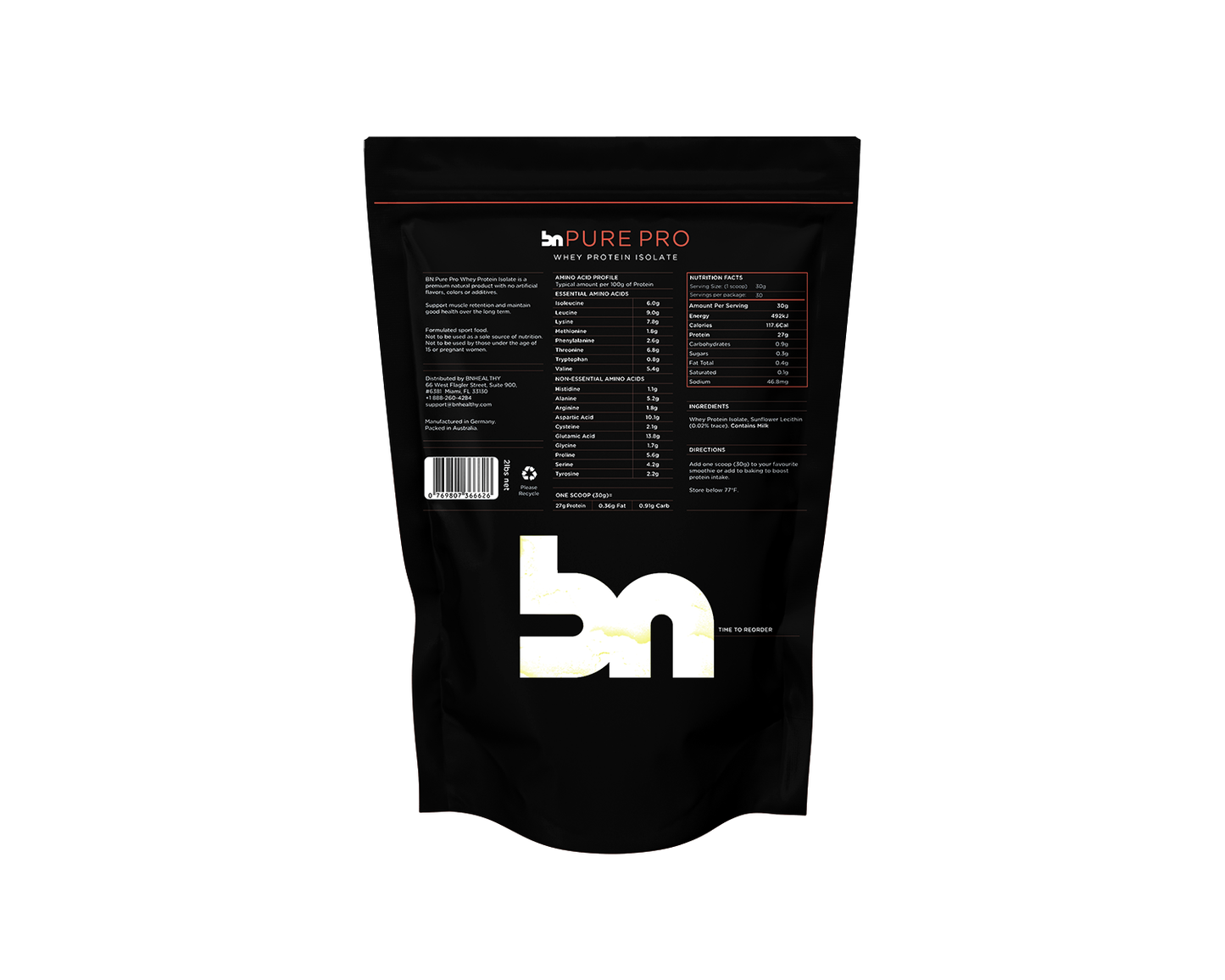 Frequently Asked Questions
Our Qualified Nutritionists are here to help you make the best choice when it comes to you and your health.
BN Pure Pro WPI is unflavoured for flexibility. It's a great addition to smoothies, baking, and other dairy-based dishes to discreetly increase your protein intake each day.
Protein is talked about a lot after WLS. It's a key player in your success.
Protein:
Retains and builds muscle
Reduces blood glucose levels
Keeps you satisfied for longer
Promotes immunity
Helps form hormones and healthy neurotransmitters to keep you feeling balanced and energetic.
In the rapid weight loss phase, the risk of losing precious muscle tissue is real. WPI is a great way to protect your muscle tissue that helps maintain a healthy metabolic rate and helps with weight loss.
WPI provides high satiety levels, leaving you less likely to crave foods outside of your healthy lifestyle plan. Low in lactose, WPI is generally well tolerated after WLS.
WPI is the gold standard for Bariatric Patients in that it "ticks all the right boxes" to help you reach your goals. It is geared for muscle building and retention, blood glucose regulation and recovery from surgery.
Collagen is an excellent addition to your regime. It has different hair, skin, nail, and gut health benefits and is less "filling". Both forms of protein have their place, and neither should be a replacement for a balanced and varied diet.
BN Pure Pro - WPI is recommended as an all-around reliable supplemental form of protein to support you on your weight loss surgery journey. It is the most bioavailable, well-tolerated and versatile form of protein.
Total 5 star reviews: 20
Total 4 star reviews: 2
Total 3 star reviews: 0
Total 2 star reviews: 0
Total 1 star reviews: 0
100%
would recommend these products
Reviewing

BN Pure Pro - Whey Protein Isolate Powder

Easy to use

Easy to use and good value for money

Reviewing

BN Pure Pro - Whey Protein Isolate Powder

Great Product

Does not change flavour of what you add it to, fills you up, easy way to get a good level of protein in a day

Reviewing

BN Pure Pro - Whey Protein Isolate Powder

Easy To Use

It's easy to get the protein you need with the help of WPI powder. Great that it is tasteless as I like to add my own flavours. It is great in the nutballs that I make regularly

Reviewing

BN Pure Pro - Whey Protein Isolate Powder

Protein Powder

Protein powder is fine I find it better to be blended in a hand shaker rather than an electric shaker.

Reviewing

BN Pure Pro - Whey Protein Isolate Powder

BN Pure Pro - Whey Protein Isolate Powder

Great brand of Protein Powder, if I know of this brand earlier would have definitely used.

Highly recommended
Reviews Loaded
Reviews Added