BN Iron - Iron Tablets plus Vitamin C
BENEFITS
Improve energy, focus & sleep quality
FORMULATION
Gentle on the stomach, without constipation or nausea
The Food and Drug Administration has not evaluated these statements. This product is not intended to diagnose, treat, cure, or prevent any disease.
Are you tired all the time?
Taking BN Iron for energy may be the boost you need. BN Iron contains Iron (II) Bisglycinate for easy absorption. Iron Bisglycinate is gentler on the digestive system, reducing constipation and nausea that is associated with other forms of iron.
Iron Bisglycinate has been chosen for superior iron storage. Iron is essential in synthesising haemoglobin in red blood cells, transports oxygen around the body, supporting energy levels. It can decrease fatigue caused by inadequate iron intake.
BN Healthy uses the highest quality and most biologically available nutrient forms to maximise absorption and storage.
BNIron are
Gluten-Free
Sugar-Free
No artificial colours
BN Iron meets all major nutritional guidelines:
Each tablet contains:
| | | |
| --- | --- | --- |
| | Amount Per Serving | % Daily Value |
| Vitamin C (as Ascorbic) | 25mg | 28% |
| Iron (as Ferrous Bisglycinate) | 24mg | 134% |
Other Ingredients: Iron oxide red, calcium hydrogen phosphate, microcrystalline cellulose, povidone, crospovidone, croscarmellose sodium, colloidal anhydrous silica, magnesium stearate, hypromellose, macrogol 400, carnauba wax
Take 1 BNIron daily with meals or as directed by your healthcare professional.
Not for the treatment of iron deficiency conditions.
Vitamins and minerals can only be of assistance if dietary intake is inadequate.
Do not use if tamper-evident seal is missing, torn or broken.
Store below 25C.
WARNING: Accidental overdose of iron contining products is a leading cause of fatal poisoning in children under 6. Keep this product out of reach of children. In casr of accidental overdose call a doctor or poison control center immediately.
WARNING: If you are pregnant, nursing or taking medication, consult your healthcare professional before use.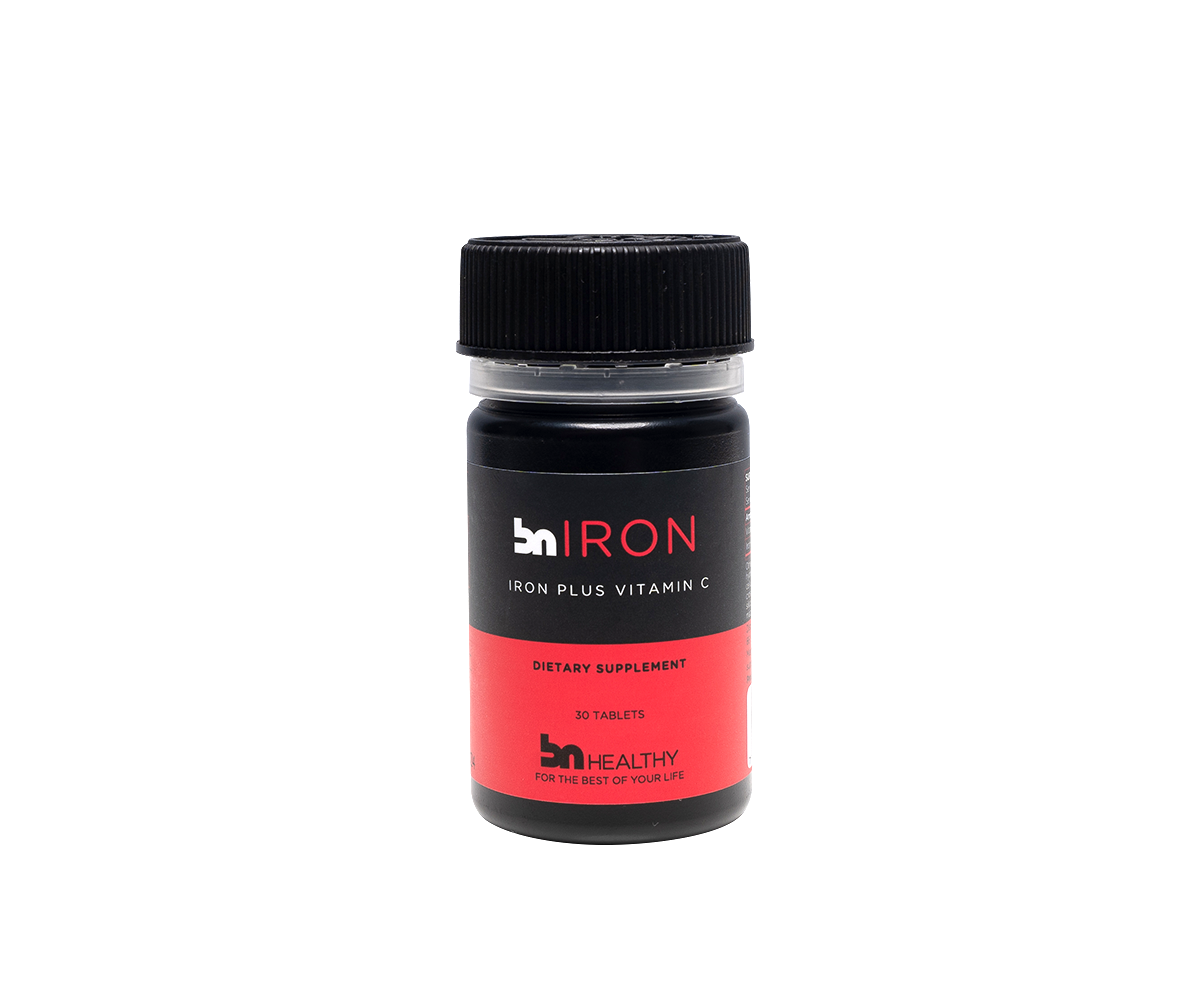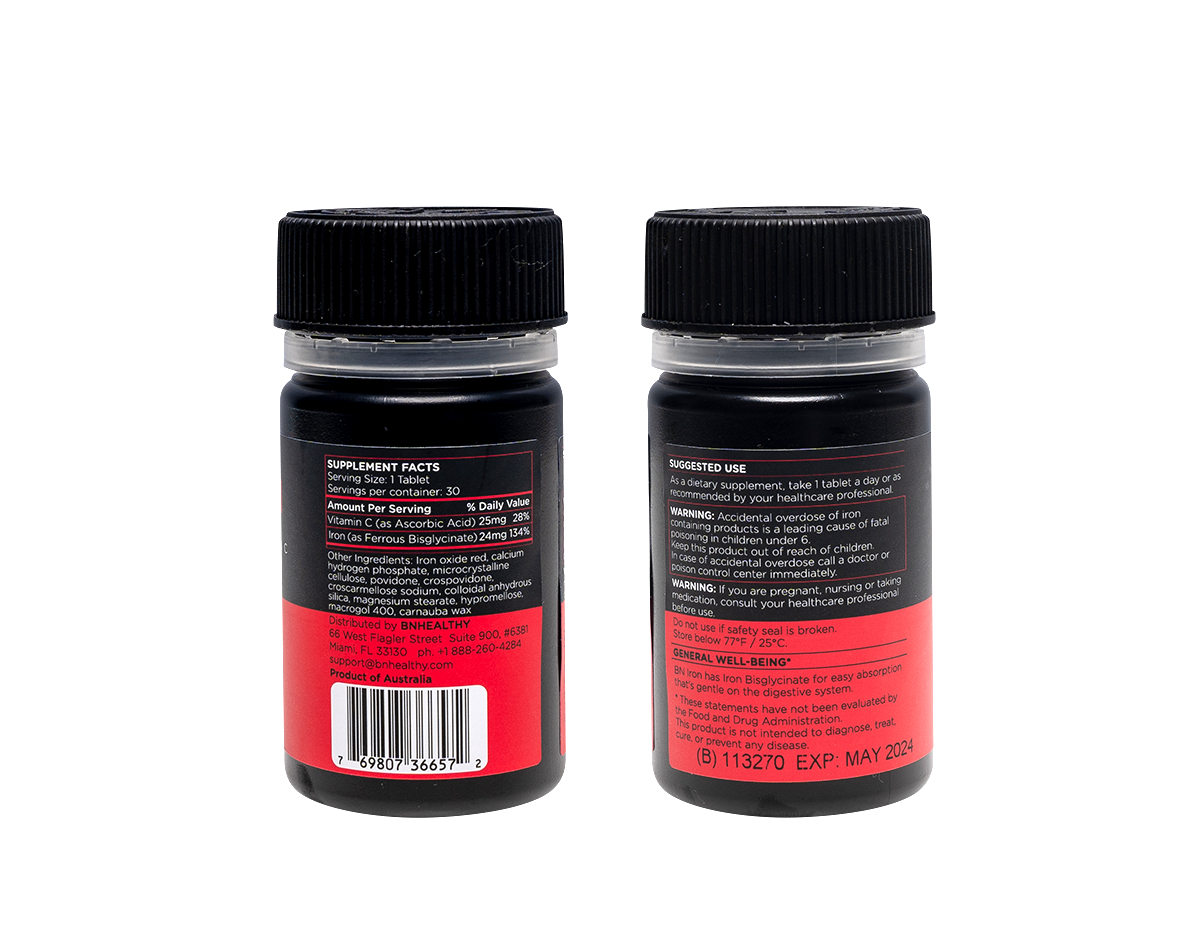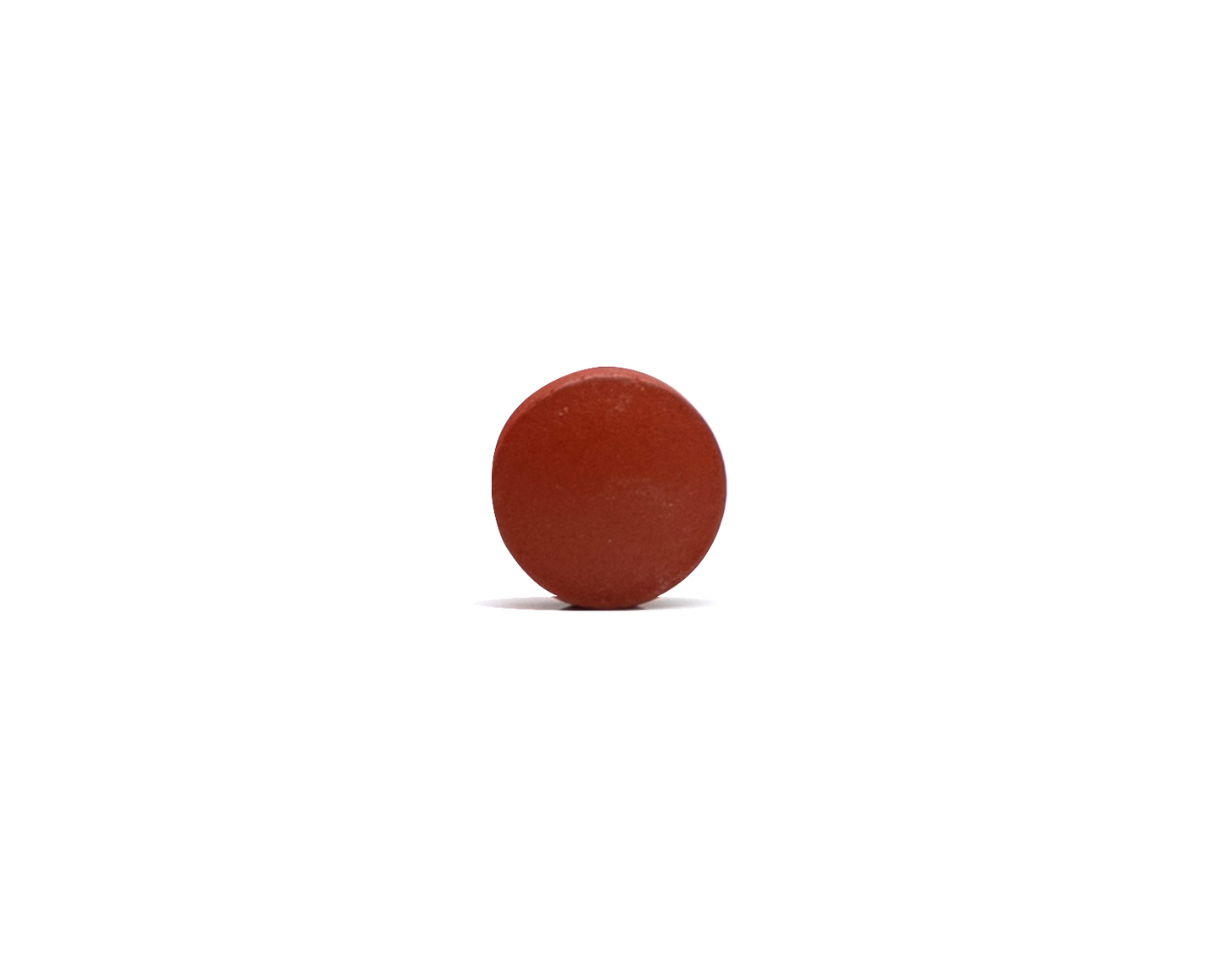 The Iron (ll) Glycinate formula has been shown to promote fewer side effects such as constipation and gastrointestinal upset as can be experienced with other and more standard forms of iron.
This makes BN Iron easy and pleasant to use.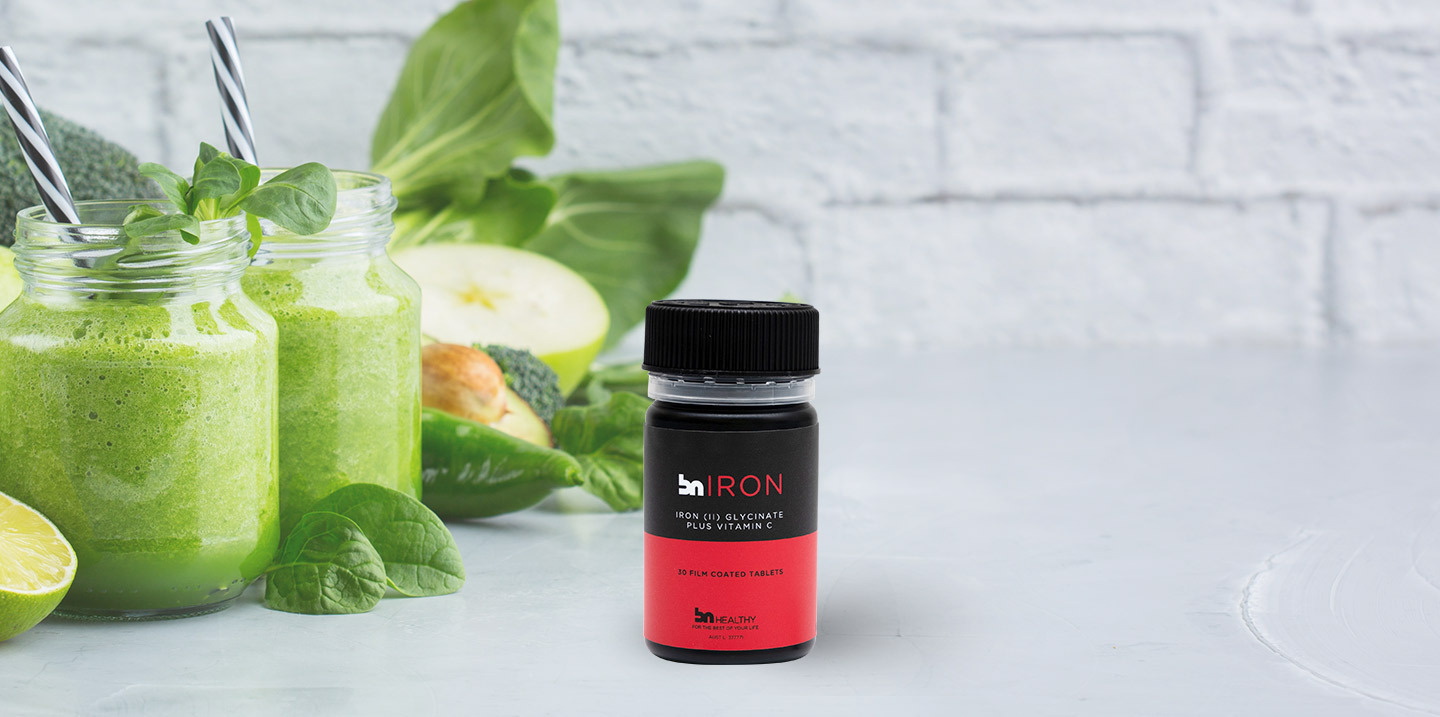 Frequently Asked Questions
Our Qualified Nutritionists are here to help you make the best choice when it comes to you and your health.
Iron requirements vary throughout the lifespan. Menstruating women who have had WLS require 18-60mg daily, men need 9mg, and menopausal women require 9-18mg. Iron absorption is affected by bariatric procedures, and absorption is impacted for life. Regular blood screening is essential to ensure your iron and iron stores (ferritin) are well within the healthy range. Iron deficiency is one of the significant nutritional implications of WLS and prevention is much less complicated than catching up.
Iron Bisglycinate has been used in BN Iron to make it easy to take regularly, without all the discomfort of other forms of iron. If iron deficiency arises, extra supplemental iron is needed for at least 3-6 months. Iron Bisglycinate has shown better storage when compared to other forms and better compliance, causing fewer side effects such as nausea and constipation.
Fatigue, forgetfulness, confusion, anxiety, aching legs, restless legs, poor quality sleep, lack of interest in physical activity, sore bleeding gums, sore, cracked lips, poor hair quality, shortness of breath, dizziness.
Calcium and iron do "compete" at specific doses, which can impact absorption. Evidence indicates that a calcium dose higher than 400mg should be separated from your iron supplements. BN Multi combines iron and calcium at a "non-competitive" rate.
Iron relies on acid for absorption. WLS impacts the production of stomach acid, so absorption of iron and calcium are impacted for life after your Bariatric procedure.
Total 5 star reviews: 27
Total 4 star reviews: 0
Total 3 star reviews: 0
Total 2 star reviews: 0
Total 1 star reviews: 0
100%
would recommend these products
Reviewing

BN Iron - Iron Tablets plus Vitamin C

Reviewing

BN Iron - Iron Tablets plus Vitamin C

Bn iron tablets

Hi very helpful and easy to swallow

Reviewing

BN Iron - Iron Tablets plus Vitamin C

Awesome

Easy on your tummy. Love these would recommend

Reviewing

BN Iron - Iron Tablets plus Vitamin C - 3 Month Subscription - Save 25%

Works!

Raised my iron levels within 3 months, no nasty side effects.

Reviewing

BN Iron - Iron Tablets plus Vitamin C

EAsy

have found these are an easy way to increase and maintain my iron levels
Reviews Loaded
Reviews Added