BN Enzyme Plus - 3 Month Subscription - Save 25%
BENEFITS
Improve digestion of fats, carbohydrates and protein
SOLUTION FOR
Feeling over full after meals
FREE shipping on orders over $80.
Same-day shipping for all orders placed before 12pm on weekdays.
We all eat, digest, and eventually eliminate. In theory, this sounds like an easy process. However, an "out of tune digestive system" can be like an untuned musical instrument!
Incomplete or slow digestion can trigger uncomfortable symptoms like
Bloating
Embarrassing Gas
Constipation
Following Weight Loss Surgery, you might experience a reduction in the production of digestive enzymes and gastric juices in the gut, which usually help to break down foods for optimal health and vitality.
BN Enzyme Plus can help ease the digestive process by helping the body break down those hard-to-digest foods that tend to trigger digestive issues. It provides the enzymes required for the efficient breakdown of food, encouraging better nutrient absorption and overall health.
BN Enzyme Plus can support the breakdown of protein into helpful amino acids to make muscle tissue, hormones and "feel good" neurotransmitters for your brain and mood.
BN Enzyme also includes carminative ingredients "Plus":
Bromelain reduces inflammation in the digestive tract and reduces gas, bloating, and the feeling that food is just "not sitting well".
Gentian is effective for bloating, gas diarrhoea and heartburn.
Improve your digestive issues and digest more comfortably with BN Enzyme Plus, and regain trust your body won't let you down.
Allergens
Contains lactose, sulfites, wheat, maltodextrin, milk and milk products, soy and soya bean products.
---
Each Capsule Contains
Enzyme Blend*:
200mg
Amylase 11,200DU
Lipase 533 LipU
Protease 34,667 HUT
Papain 13,333 PU
Tilactase 2,000 ALU
Bromelain 66,667 PU
Cellulase 167 CU


Gentiana Lutea root ext dry conc.
25mg
from 100mg dry root


Carica Papaya Fruit Powder
25mg
Cynara Scolymus leaf ext dry conc.
30mg
from 1.5g fresh leaf


* Protease: Breaks down proteins into amino acids.
Lipase: Breaks down fats and makes them more transportable. It also helps with the absorption of fat-soluble vitamins.
Amylase: Breaks down complex carbs into simple sugars for better energy production.
Take 1 BN Enzyme Plus twice daily, 30 minutes before meals or as your healthcare professional recommends.
If symptoms persist, talk to your healthcare professional.
Keep out of reach of children.
Do not use if tamper evident seal is missing, torn or broken.
Store below 25°C.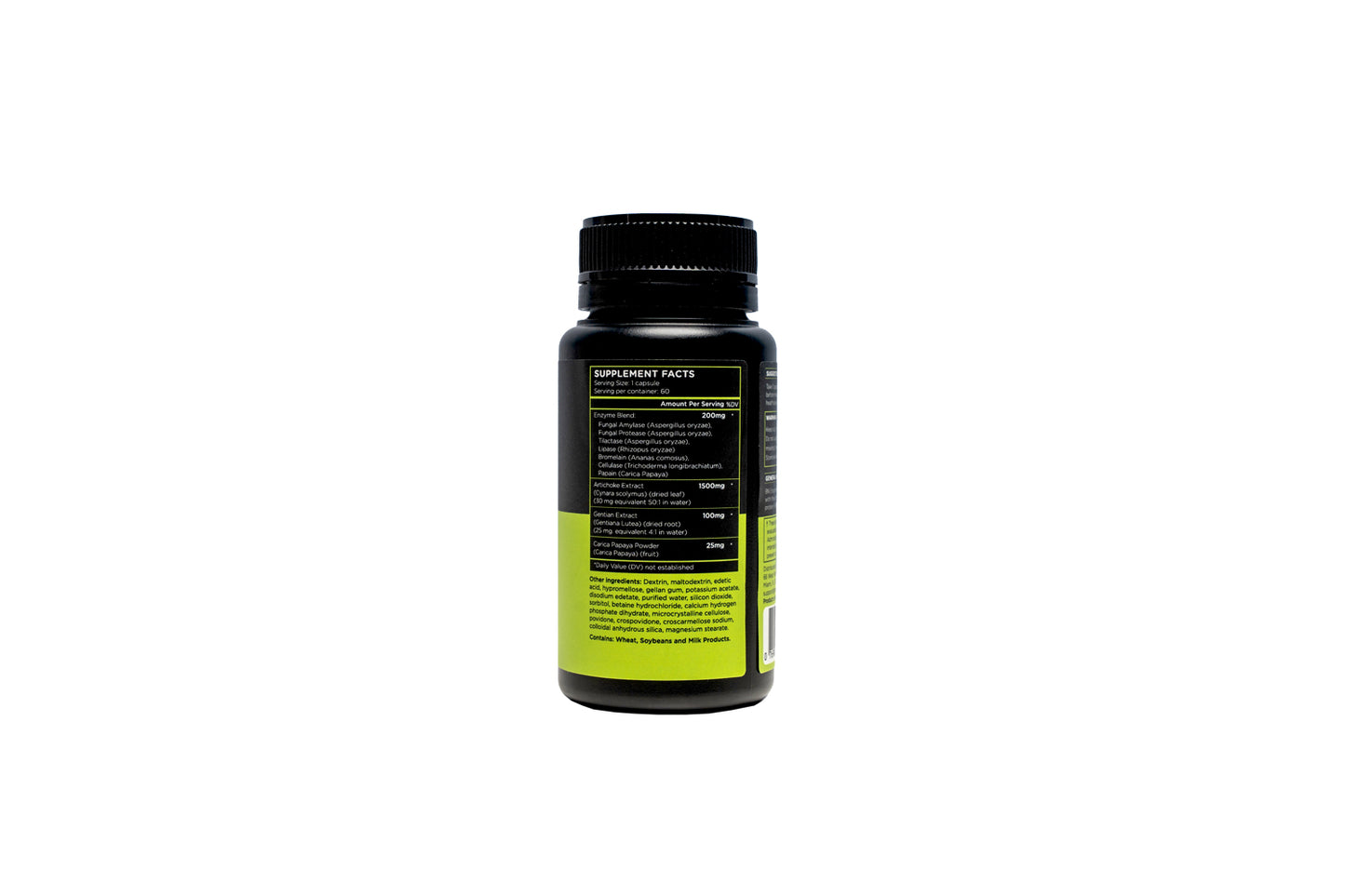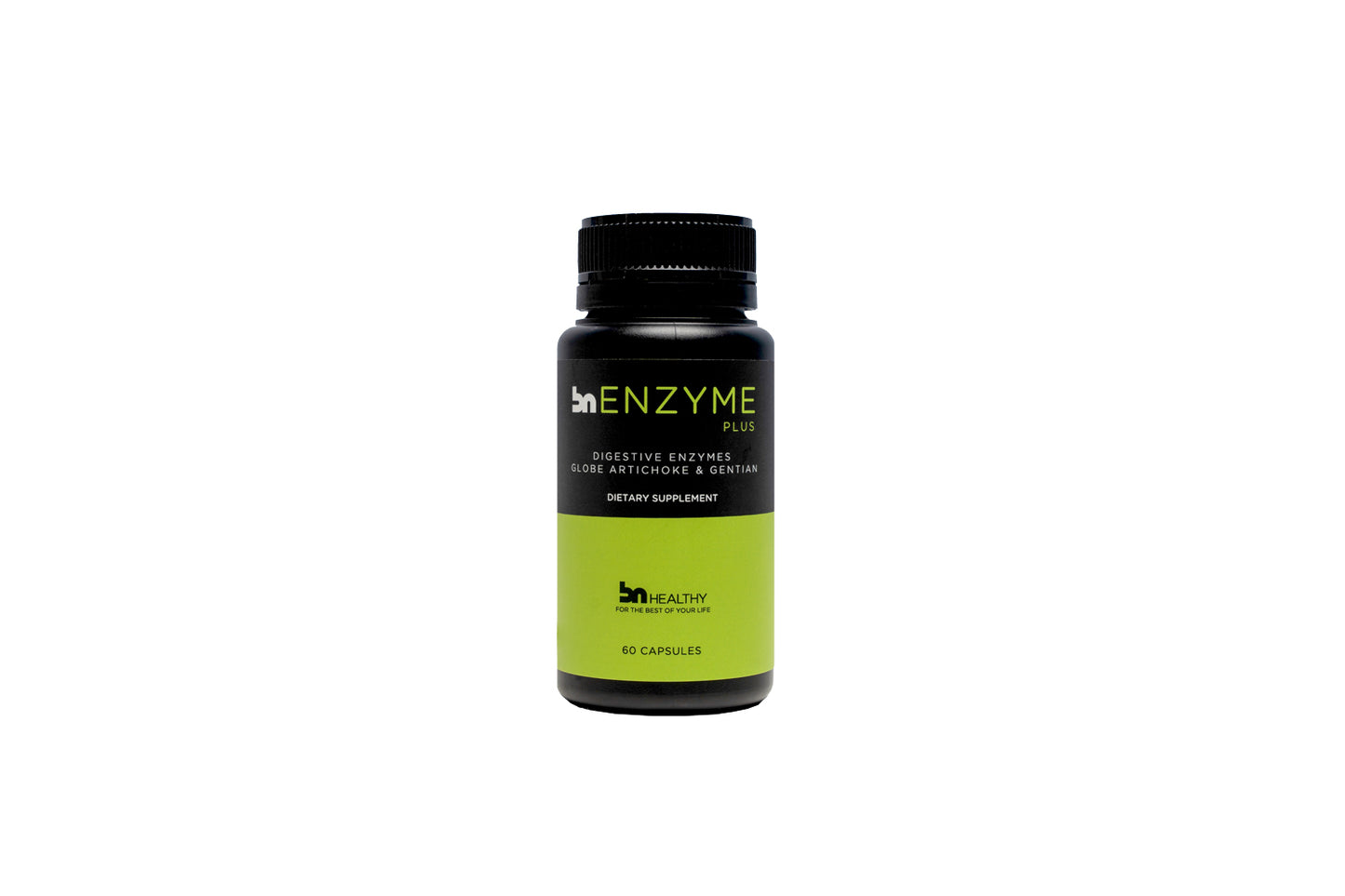 BN Enzyme Plus contains Amylase to break down complex carbs into simple sugars for better energy production.
Our Qualified Nutritionists are here to help you make the best choice when it comes to you and your health.
Research supports that eating fermented foods, such as yoghurt, kimchi and chia seeds, can aid digestion
If you don't have many fermented foods in your diet, you can include supplementing BN Enzyme Plus but ensure your health care practitioner advises you.
The best time to take your digestive enzymes is 30 minutes before meals. Taking digestive enzymes after you eat will unfortunately not be effective, as the food has already started digesting.
Unlike many other digestive enzyme supplements, BN Enzyme Plus is made from natural ingredients. It contains no artificial flavours, colours or preservatives - making it one of the best digestive enzymes in Australia.
While probiotics and digestive enzymes both support the digestive process, they have extensively different functions.
Probiotics help produce the gut with good bacteria, which balances the digestive system that significantly impacts your overall health.
Digestive enzymes break down the food you consume so your body can absorb as many nutrients as possible.
You may need one or both of these targeted supplements, depending on your specific health needs. You can take them together as they work synergistically, but please ensure your healthcare practitioner advises you.
Appraisal of your symptoms:
You can observe many signs and symptoms of enzymatic insufficiency for yourself. Although some could be due to other conditions, several relate primarily to the failure of pancreatic enzymes to be released. They include the following:
If your stool is pale and floats in the toilet bowl.
This can indicate problems with your digestive enzymes. Given fat floats, this could mean that your pancreatic enzymes may not be functioning correctly.
If you notice undigested food in your stool.
You will likely have a problem with a lack of digestive enzymes.
If you frequently suffer from diarrhoea, stomach bloating, or flatulence and indigestion.
These can be signs of deficiency in digestive enzymes.
Feeling as if you have food sitting in your stomach, even long after eating or with an empty stomach.
Feeling full after eating only a few bites of food.