BN Chocolate - Calcium + Vitamin D
BENEFITS
Calcium citrate is better absorbed and easily digested
SOLUTION FOR
Tastier way to protect your bones and teeth
DELICIOUS CALCIUM
Premium 72% Dark Chocolate
The Food and Drug Administration has not evaluated these statements. This product is not intended to diagnose, treat, cure, or prevent any disease.
BN Chocolate will change your perception of calcium supplements as it contains premium 72% dark chocolate. Our chocolate calcium balls are the most delicious way to get daily calcium.
The flavor is rich and creamy with just a hint of sweetness and no bitter aftertaste. BN Chocolate will make you crave your calcium.
BN Chocolate contains calcium with vegan vitamin D - formulated using calcium citrate, which is more bioavailable and easily digested than other forms of calcium. Calcium citrate is highly recommended for people undergoing Bariatric Surgery since it does not require stomach acid for absorption.
The ASMBS Nutritional Guidelines for Weight Loss Surgery indicate that bariatric patients require daily calcium citrate supplements. Calcium citrate is more easily absorbed than other forms of calcium.
It may be taken at any time of day, with or without food, but other forms of calcium require food for absorption. Vitamin D supplementation promotes calcium absorption, helps maintain a healthy vitamin D status, and strengthens bones.
When you take BN Chocolate, you'll:
Support bone health
Support bone mass
Maintain cardiovascular system health
Support bone strength
Help maintain bone mineralisation
Support calcium absorption in bones
We need calcium in our diet to maintain bone health. This decline may harm our health as we age, so taking care of our bodies is critical.
A balanced and healthy diet is essential, and supplementation can be helpful when calcium levels are insufficient.
Each calcium with vegan vitamin d chocolate ball contains:
Premium 72% dark chocolate
500mg calcium citrate
500IU vegan vitamin D
No gluten
Less than 2g of sugar
Don't let weak and brittle bones be in your future. Get BN Chocolate to strengthen your body every day.
---
What makes BN Chocolate different?
Most vitamin D supplements are sourced from animals, with vitamin D3 taken from pesticide-treated animal skin or the lanolin in sheep's wool on their route to slaughter. So we set out to discover a vegan substitute. BN Chocolate contains vegan vitamin D, which are unique, organic ingredient. Free of hazardous pesticides, solvents, and animal cruelty.
---
The building blocks of strong bones.
Calcium requirements calcium is vital for bone health, muscle contraction, nerve transmission, blood clotting, and much more. Sufficient supplements of calcium and vitamin D throughout life as part of a well-balanced diet may reduce the risk of osteoporosis.
Recent reports indicate that vitamin D is essential for calcium absorption and key in helping immunity and preventing disease. BN Chocolate contains 500IU of vegan vitamin D, the most active form of the nutrient.
Calcium is essential as it provides structure and strength for our bones, which we need for normal bone development and maintenance. Our body gets calcium from the food we eat. Calcium-rich foods include dairy products, dark green leafy vegetables and sesame seeds.
If the amount of calcium in the blood is low, calcium is extracted from the bones because the diet doesn't provide enough calcium.
Vitamin D is produced in the body after skin exposure to UVB rays. A significant function of vitamin D is regulating calcium and phosphorus levels by stimulating their absorption from the intestines, reabsorption in the kidneys and releasing calcium from bones back into the blood. Where vitamin D is deficient, intestinal absorption of calcium can be halved.
Dark chocolate: sugar, cocoa butter, cocoa mass, emulsifiers (soy lecithin), natural vanilla. Calcium Citrate 2350mg.
Manufactured on equipment shared with milk containing products. Milk may be present. Made in a facility that processes tree nuts.
NON GMO - No genetically modified products or ingredients used in manufacture.


Amount Per Serving
% Daily Value
Calories
41


Total Fat
Saturated Fat
3g
1.8g

4%*
10%*
Total Carbohydrate
Total Sugars
Added Sugars
2.3g
2.0g
2g
1%*
**
4%*
Protein
0.7g


Vitamin D
12.5mcg
63%
Calcium
500mg
38%
Magnesium
14mg
3%
Sodium
0.8mg
<1%
* Percent daily value based on 2,000 calories diet.
** Daily value not established.
Consume 1 – 2 Chocolate balls daily, or as advised by your dietitian or other health professional.
Calcium needs vary over the lifespan and should be adjusted accordingly, for your safety. Do not exceed 2 balls unless specifically recommended.
Do not exceed the recommended dose, as this may have a laxative effect.
Pregnant or nursing mothers, children under the age of 18 and individuals with known medical conditions should consult a physician before using this or any dietary supplement.
Store in a cool, dry place to prevent chocolate from melting.
Keep out of reach children and pets.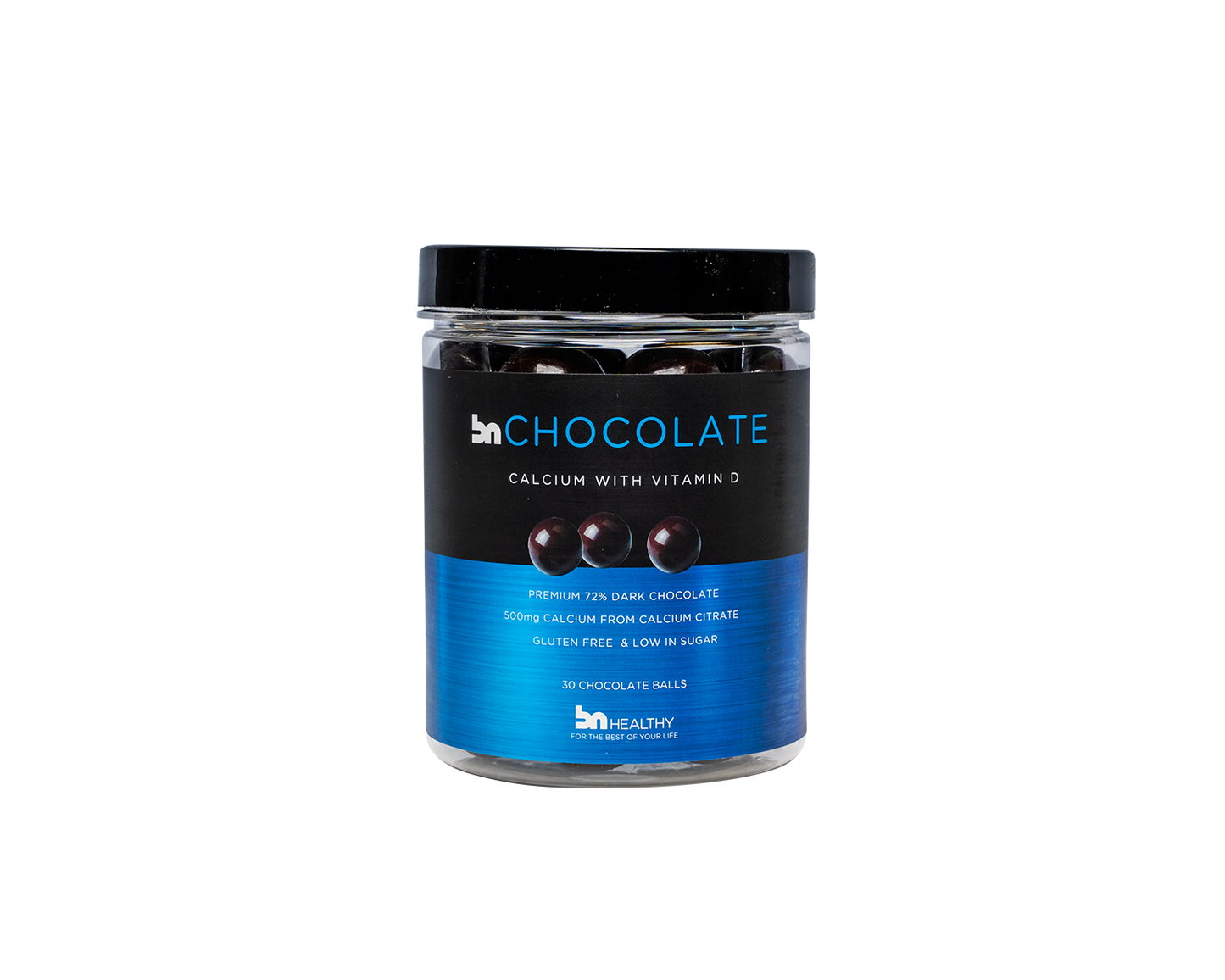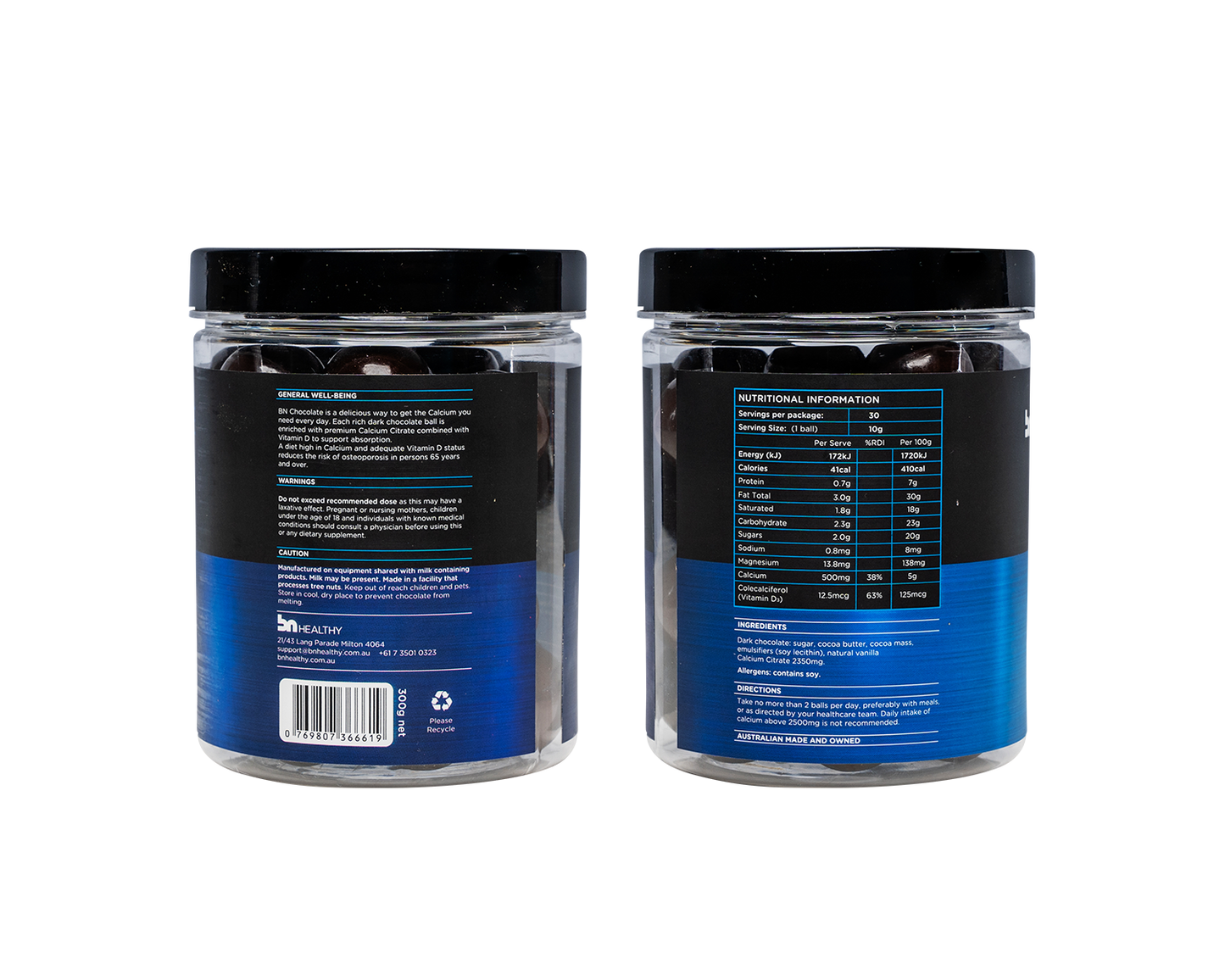 Carefully formulated to target your concerns.
Supports Bone & Dental Health
Over 99% of the total body calcium is stored in your bones and teeth, so it is essential to building and maintaining strong and healthy bones.
Support Nervous System
Calcium is vital in many nervous system functions, from neurotransmitter release to intracellular signal transduction.
Help Heart & Muscle Function
Calcium plays a role in helping muscles contract and regulating normal heart rhythms.
Support Fat Loss
Calcium helps break down fats and increases thermogenesis (heat created in the body burns calories) to increase weight loss.
Total 5 star reviews: 75
Total 4 star reviews: 1
Total 3 star reviews: 0
Total 2 star reviews: 0
Total 1 star reviews: 0
100%
would recommend these products
Customer-uploaded media carousel. Press left and right arrows to navigate. Press space or enter to open more details.
Slide 1 selected
Reviewing

BN Chocolate - Calcium + Vitamin D

BN Chocolate - Calcium + Vitamin D

Love these. Getting my healthy chocolate craving sorted while getting extra calcium and vitamin D to add to my vitamin intake. All checked and good as far as dosages go. Love the flavour. Very satisfying and helping me feel better. Good price. Will buy again. They are a bit bigger than a Malteser and need chewing (unlike chewing on too many regular chocolate squares) so 3 a day feels more than enough. Sometimes 1-2 is enough and I have another at another time in the day. Has helped me deal with the emotional chocolate cravings. Very pleased I found these. Please keep them going.

Reviewing

BN Chocolate - Calcium + Vitamin D

Choc balls

I take 1 choc ball twice daily with my multivitamin caps as a way of

getting my daily calcium requirements. They're great.

Reviewing

BN Chocolate - Calcium + Vitamin D

Bn chocolate

Great tasting feels like you are having a naughty chocolate but giving you calcium and vit D as well

Reviewing

BN Chocolate - Calcium + Vitamin D

Healthy Chocolate Crave Saver

Love these vitamins - not only do I get a daily booster of Vitamin D & Calcium, but also satiates my chocolate cravings :)

Reviewing

BN Chocolate - Calcium + Vitamin D

Great taste, would highly recommend

Great taste would highly recommend so easy to take.
Reviews Loaded
Reviews Added