BN Chews Orange - Chewable Multivitamins - - 6 months subscription - Save 50%
BENEFITS
Improve vitality & nutritional support
SOLUTION FOR
Gastric Sleeve & Gastric Bypass Surgery
FREE shipping on orders over $80.
Same-day shipping for all orders placed before 12pm on weekdays.
BN Chews are easy-to-take, tasty bariatric multivitamins designed to meet the specific needs of bariatric patients.
Trust that our great-tasting raspberry-flavored chewable bariatric multivitamins will give you proper nutrition for your body as you successfully navigate the Weight Loss Surgery journey.
With 27 essential vitamins and minerals supporting
Optimal health and wellbeing
Energy production
Metabolism
BN Chews are your complete chewable bariatric multivitamin to support your
Immune system
Cognitive function
Cardiovascular health
BN Chews multivitamins are the preferred solution for the time immediately following surgery.
BN Multi Chews are built for easy digestion and are highly soluble - giving you the best chance at absorption in the recovery phase. Take BN Chews as a long-term solution, or check out our BN Caps multivitamin capsules once you have totally recovered and adjusted to bariatric life.
Even if you eat a balanced diet, you'll unlikely meet your dietary needs, as Bariatric Surgery alters your digestion and limits the absorption of some key nutrients.
Over time, without the right supplements, you'll start to feel flat, fatigued, and foggy when the idea of the Weight Loss Surgery process is to become the healthiest, most vital version of yourself possible.
Your body needs a specifically formulated supplement every day now. Things have changed to maintain important health components and help with your long-term success. Taking a specific vitamin and mineral supplement daily is key to being healthy every day.
It can be overwhelming to absorb all the information required during such a time, and we recognize that the learning curve is incredibly steep. So we have kept it simple!
When you take just 1 BN Chews tablet twice daily, you can tackle your day with vitality and confidence, knowing you've given your body exactly what it needs.
Our unique, chewable multivitamins for bariatric patients are formulated with higher levels of certain vitamins and minerals to meet your increased needs. General multivitamins are for the general population.
BN Chews multivitamins are designed to support your body to function at its best - combined with a healthy lifestyle and nutritional eating plan. BN Chews provides everything you need to take on the day confidently.
Don't get stuck in a rut of taking a range of bandaid products - we keep it simple with our BN Chews. You can relax knowing you are giving your body the best chance at success after your Weight Loss Surgery.
Now that you're about to embark on this exciting journey - continue prioritizing your health without feeling overwhelmed with BN Chews.
---
With the use of the best bariatric chewable multivitamin, you will:
Supports body metabolic rate
Maintains healthy cardiovascular system function
Supports healthy immune system function
Support wound healing
Improve vitamin and mineral levels in the body
It can be challenging to sustain a healthy lifestyle pre and post-surgery when life gets busy.
---
Fill the gap with BN Healthy Every Day!
BN Multivitamins are extra potent (much more potent than your usual chemist variety) - Specifically designed to replenish the key nutrients that are poorly absorbed after Gastric Sleeve or Gastric Bypass Surgery.
BNChews use the highest quality and most biologically available vitamins and minerals to increase absorption. BN Healthy are products you can trust.
BN Healthy manufactures and packs your vitamins in Australia and works closely with local surgeons and dietitians to continually enhance our range and ingredients.
BN Healthy - Quality you can rely on for safety, purity and efficacy.
Meets the recommended daily intakes for post-surgical patients as outlined in the American Society for Metabolic and Bariatric Surgery (ASMBS) Guidelines
Therapeutic Goods Administration (TGA) approved for safety and purity.
British Obesity and Metabolic Society Guidelines 2020
European Guidelines on Metabolic and Bariatric Surgery
---
Choose the right multivitamin for you.
When bariatric supplementation is done right, you won't find yourself swapping your weight-related health issues for just a set of different problems linked to malnutrition or malabsorption by the bariatric procedures.
BN Healthy bariatric multivitamins and supplements cater to all Weight Loss Surgery types. We have made it easy to help you choose the right product for YOU in under a minute.
Allergens: contains soybeans.
Each tablet contains:


Amount Per Serving
% Daily Value
Vitamin A (as retinol acetate)
3000mcg RAE
333%
Vitamin C (as ascorbic acid)
90mg
100%
Vitamin D3 3000IU (as cholecalciferol)
75mcg
375%
Vitamin E 24.32IU (as d-alpha-tocopheryl acid succinate)
100.5mg
670%
Vitamin K (as phytomenadione)
300mcg
250%
Vitamin B1 (as thiamine hydrochloride)
36mg
3000%
Vitamin B2 (as riboflavin)
3.4mg
262%
Vitamin B3 (as nicotinamide)
20mg
125%
Vitamin B6 (as pyridoxine hydrochloride)
1.3mg
76%
Folate (as Folic Acid 800mcg)
1360mcg DFE
340%
Vitamin B12 Mecobalamin (as co-methylcobalamin)
1000mcg
41667%
Biotin
600mcg
2000%
Pantothenic acid (as calcium pantothenate)
20mg
400%
Calcium (as calcium hydrogen phosphate dihydrate)
170mg
13%
Iron (as ferrous fumarate)
45mg
250%
Iodine (as potassium iodide)
150mcg
100%
Magnesium (as heavy magnesium oxide)
50mg
12%
Zinc (as zinc citrate dihydrate)
16mg
145%
Selenium (as selenomethionine)
50mcg
91%
Copper (as copper gluconate)
2mg
222%
Maganese (as manganese amino acid chelate)
2mg
87%
Chromium (as chromic picolinate)
120mcg
343%
Molybdenum (as molybdenum trioxide)
50mcg
111%
Mixed (low alpha type) tocopherols concentrate
30mg
*
Ubidecarenone
10mg
*
Boron (as borax)
2mg
*
*No daily value established
Other ingredients: Sucrose, sucralose, acacia, maize starch, medium chain triglycerides, DL-alpha-Tocopherol, silicon dioxide, citric acid anhydrous, maltodextrin, colloidal anhydrous silica, hypromellose, ethylcellulose, glucose, magnesium stearate, povidone, raspberry, and creamy vanilla powder flavor.
Take 2 BN Chews per day with meals, or as directed by your healthcare professional.
If symptoms persist, talk to your health professional.
The recommended daily amount of Vitamin A from all sources is 700 mcg retinol equivalents for women and 900 mcg for men. When taken in excess of 3000 mcg retinol equivalents Vitamin A can cause birth defects.
If you are pregnant or considering becoming pregnant do not take Vitamin A supplements without consulting your doctor or pharmacist.
Vitamin and mineral supplements should not replace a balanced diet.
Not for the treatment of iron deficiency conditions.
Contains selenium which is toxic in high doses. A daily dose of 150 mcg for adults of selenium from dietary supplements should not be exceeded.
Contains sucralose.
Do not use if seal is broken or missing.
Store below 25 C.
Always read the label and follow the directions for use.
WARNING: Accidental overdose of iron contining products is a leading cause of fatal poisoning in children under 6. Keep this product out of reach of children. In casr of accidental overdose call a doctor or poison control center immediately.
WARNING: If you are pregnant, nursing or taking medication, consult your healthcare professional before use.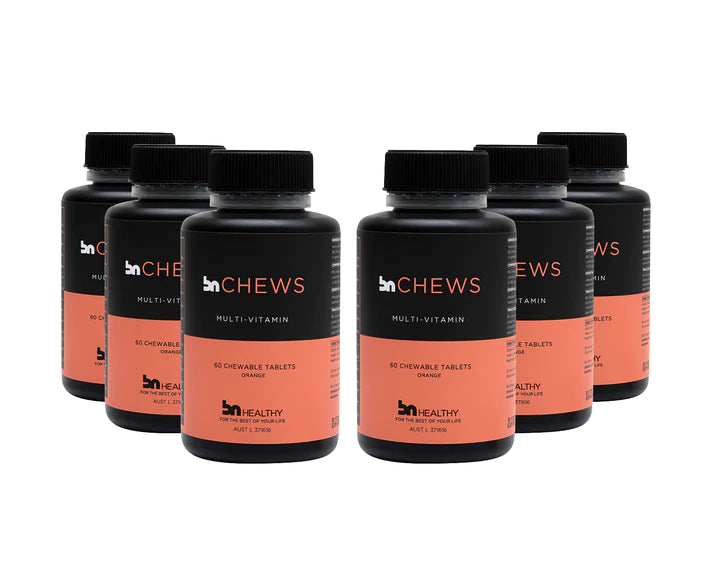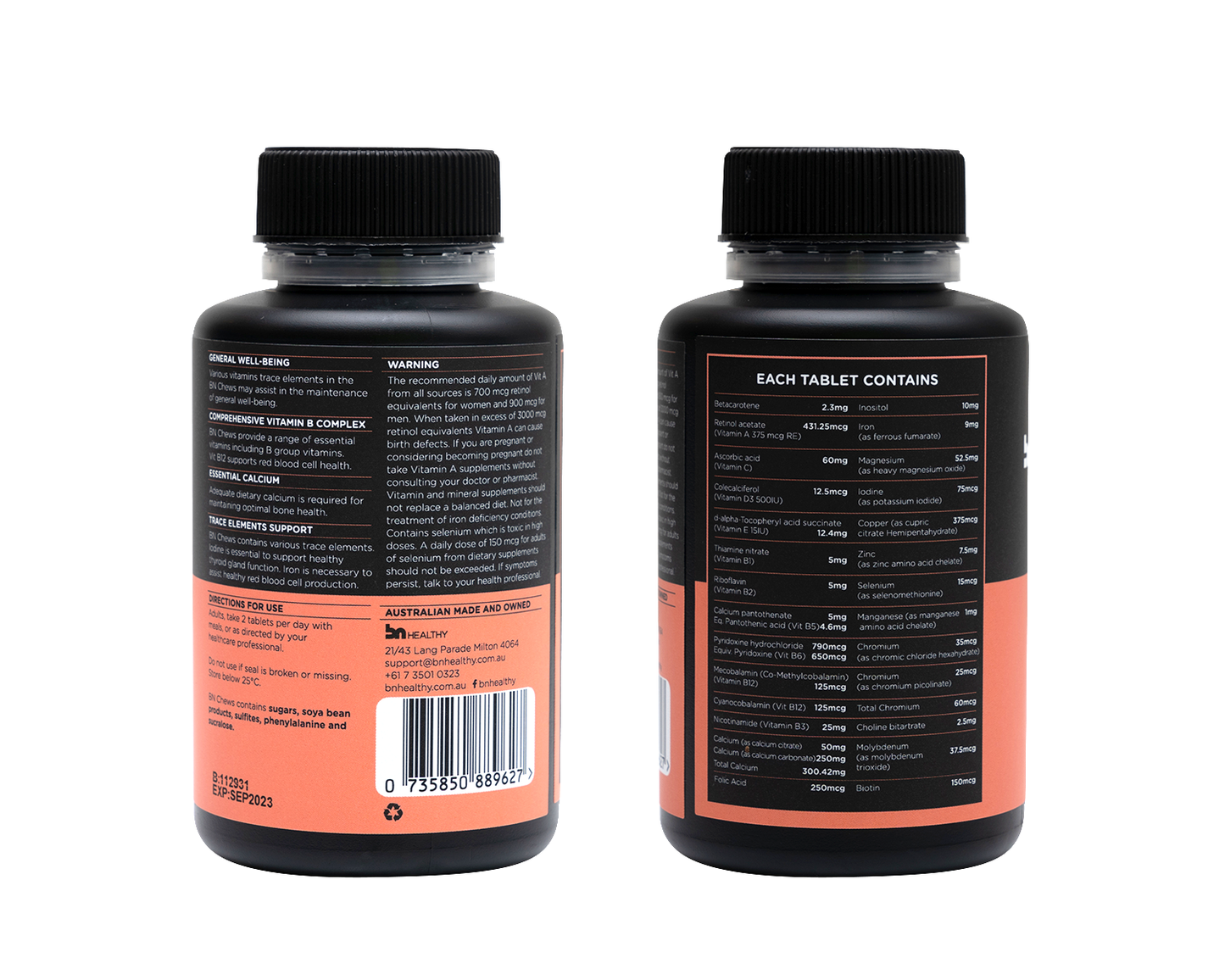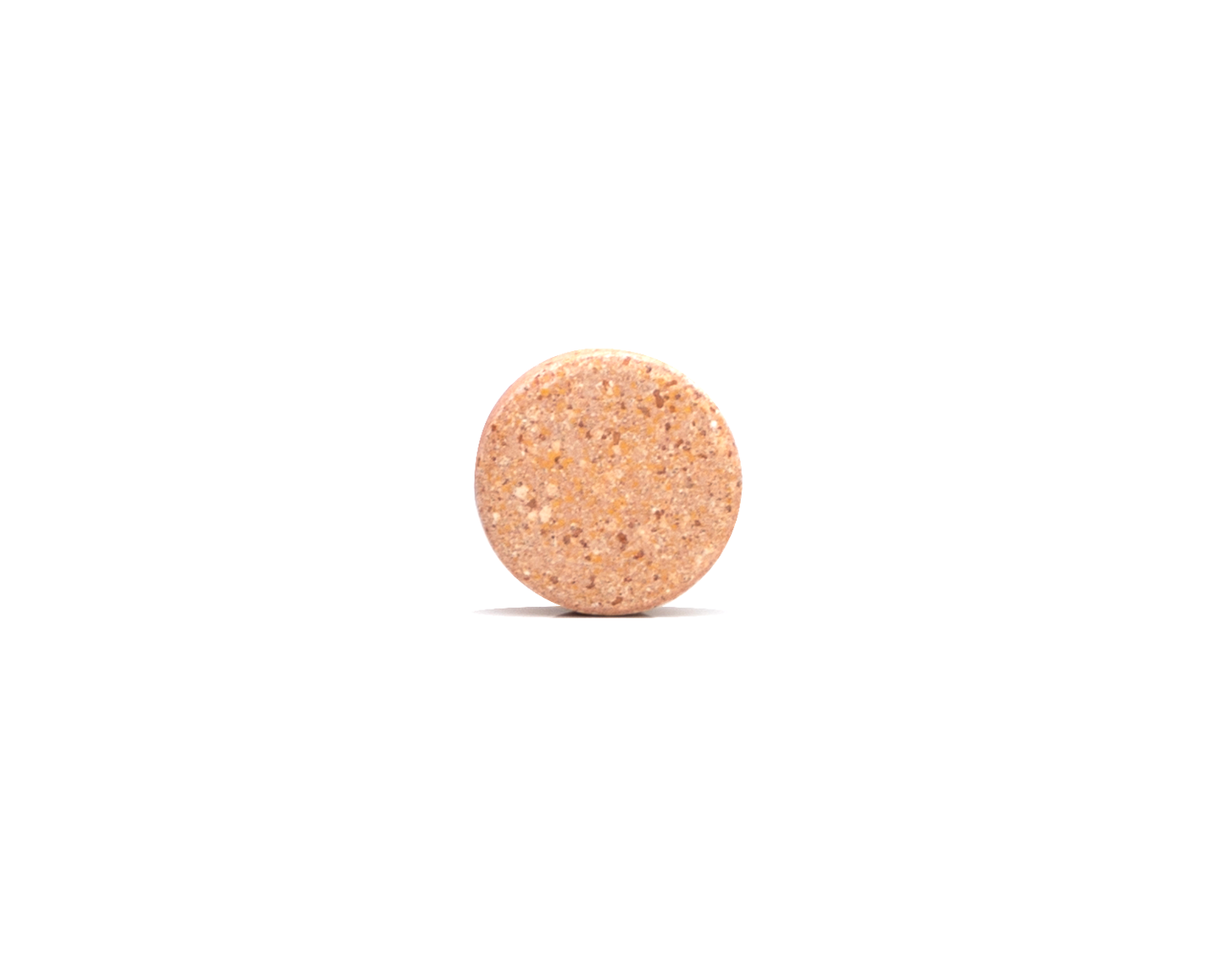 Frequently Asked Questions
Our Qualified Nutritionists are here to help you make the best choice when it comes to you and your health.
Yes, taking BN Chews chewable multivitamin is the easiest and most efficient way of reducing the risk of micronutrient deficiencies in the body after Bariatric Surgery.
It is recommended to take BN Chews for the first two months after surgery to increase absorption of nutrients while your new tummy recovers and heals. Following that, you can continue taking your BN Chews or opt for BN Caps for life.
BN Chews are a raspberry flavored chewable multivitamin form while BN Caps are a tasteless capsule form, calcium free.
Bariatric vitamin and mineral supplements after WLS are crucial in maintaining proper health and nutrition to live an active and healthy lifestyle. Nutrient deficiency is the most common side effect due to malabsorptive components of WLS; you will prevent things like hair loss, brain fog, and low energy.
Try crushing your BN Chews into powder form and put them into your meals or drink. Or you can opt for our BN Caps, an easy-to-swallow capsule.