BN Cal - Calcium Chewable Tablets
The Food and Drug Administration has not evaluated these statements. This product is not intended to diagnose, treat, cure, or prevent any disease.
Getting enough calcium is a challenge for Weight Loss Surgery (WLS) patients, but our BN Cal can make it easier for you to continue your day.
BN Cal is a tasty chocolate vanilla flavour chewable tablet containing calcium and vitamin D, which are involved in the development and maintenance of bones and are essential for cardiovascular health.
Adequate dietary calcium is required to maximise bone health. A diet deficient in calcium can lead to osteoporosis in later life. Calcium may help prevent osteoporosis when dietary intake is inadequate.
Calcium plays a role in various enzyme systems responsible for muscle contraction, fat digestion, and protein metabolism assists in synthesising neurotransmitter and nerve conduction.
Calcium Citrate is superior to Calcium Carbonate and is best for absorption after WLS.
BN Cal meets all major nutritional guidelines:
Australian Therapeutic Goods Administration (TGA) approved for safety and purity
Contains milk products, gluten, sulfites, sucralose, sugars, lactose and 2.18g of sugar alcohols per max daily dose.


Amount Per Serving
% Daily Value
Calories
25


Total Fat
0.5g
1%
Total Carbohydrate
Total Sugars
Included Added Sugars
7g
2g
2g
3%
**
4%*
Vitamin D3 500IU (as cholecalciferol)
12.3mcg
62%
Calcium (as calcium citrate tetrahydrate)
600mg
46%
* % Daily values are based on a 2,000 calorie diet.
** % Daily value not established.
Other ingredients: Lactose, milk flavor, xylitab 200, sugar alcohols, sucralose, fructose, mannitol, gluten and sulfites, vanilla and dark chocolate flavor.
Take 1 tablet 3 times daily or as directed by your healthcare practitioner. Chew or crush tablets completely before swallowing. Do not swallow tablets whole. Take at least 2 hours apart from iron.
If you have had gastric surgery and experience persistent nausea, vomiting, diarrhea, or other symptoms, contact your healthcare practitioner.
Keep out of reach of children
Products containing mannitol and xylitol may have a laxative effect or cause diarrhoea.
Do not use if seal is broken or missing.
Store below 77F.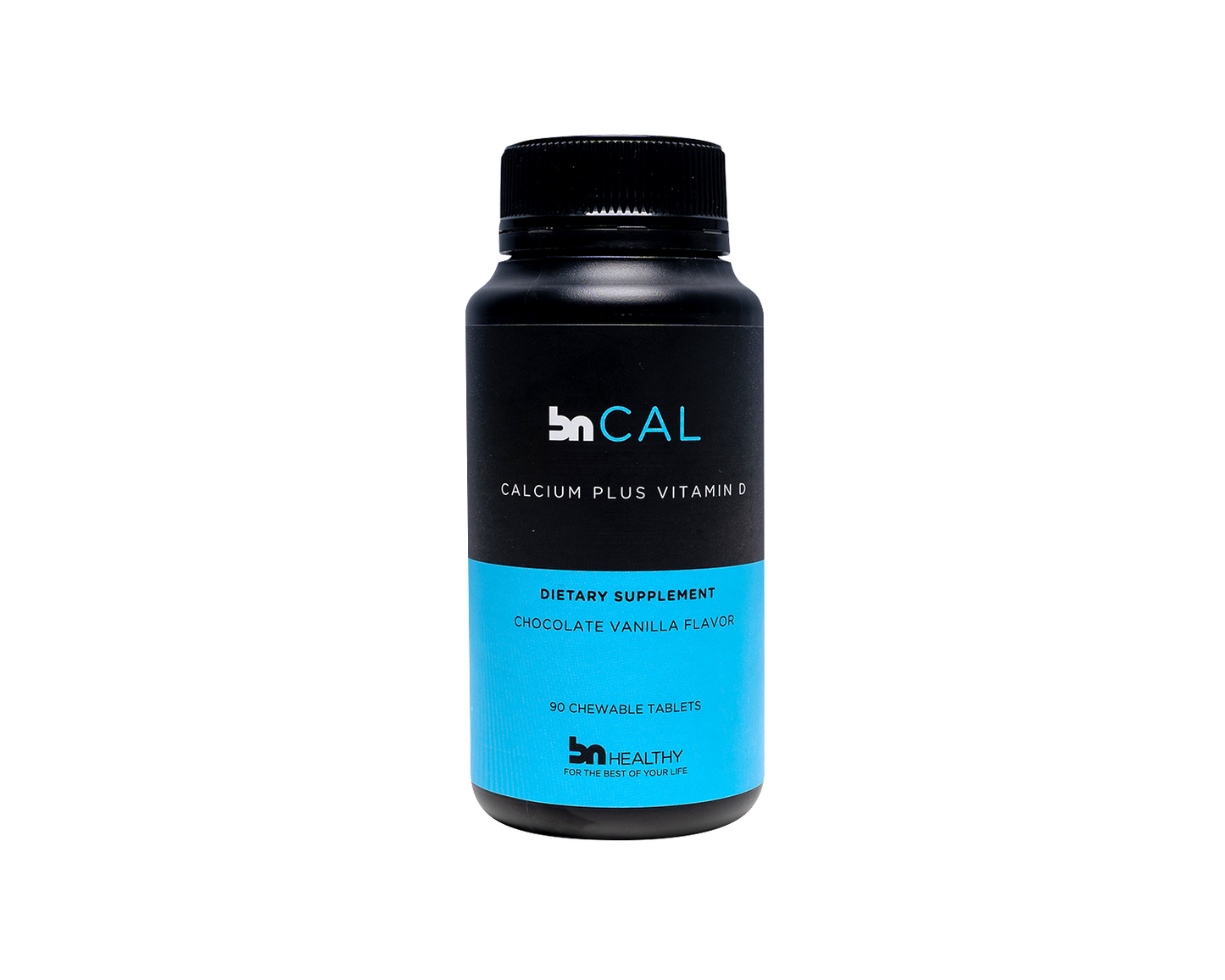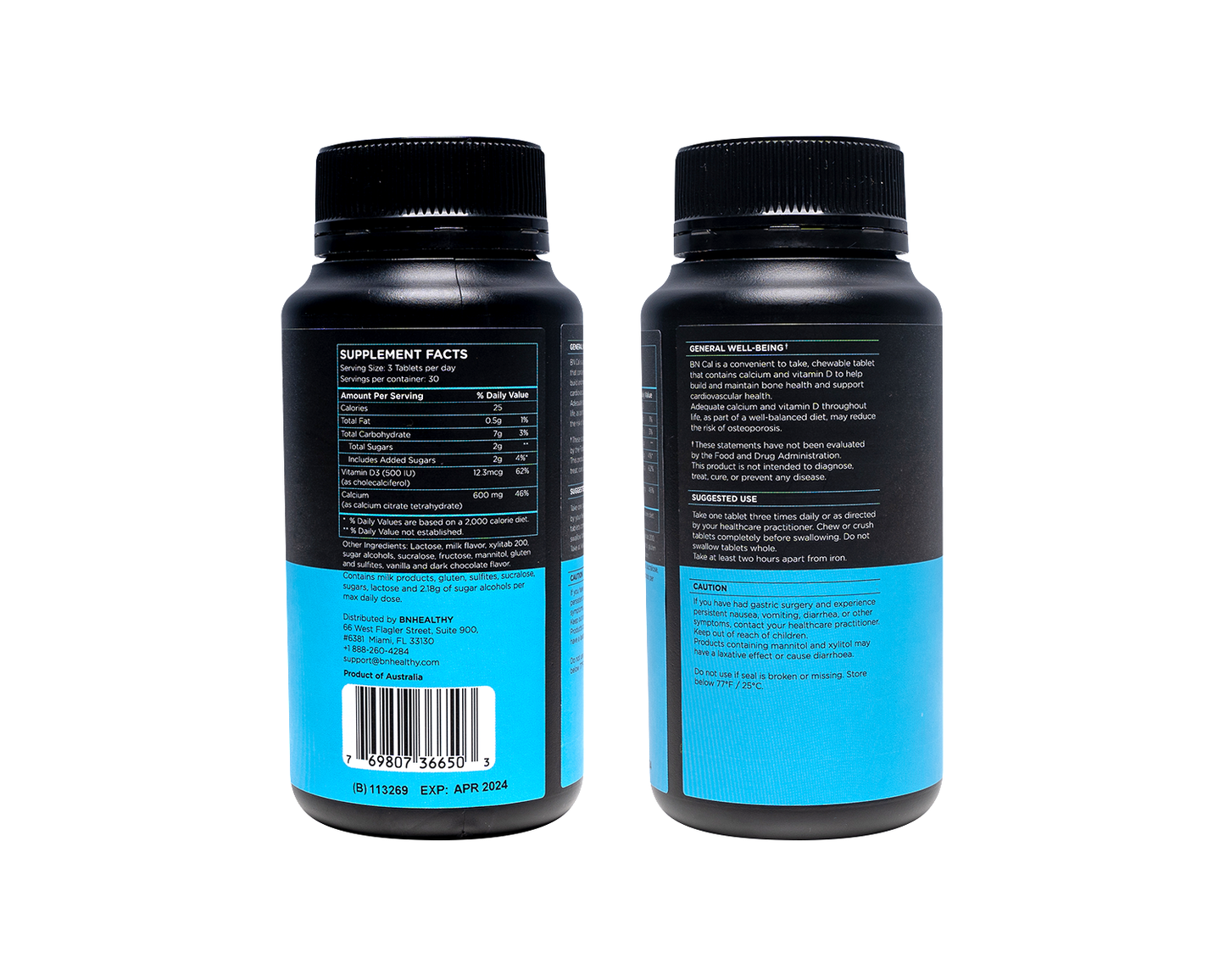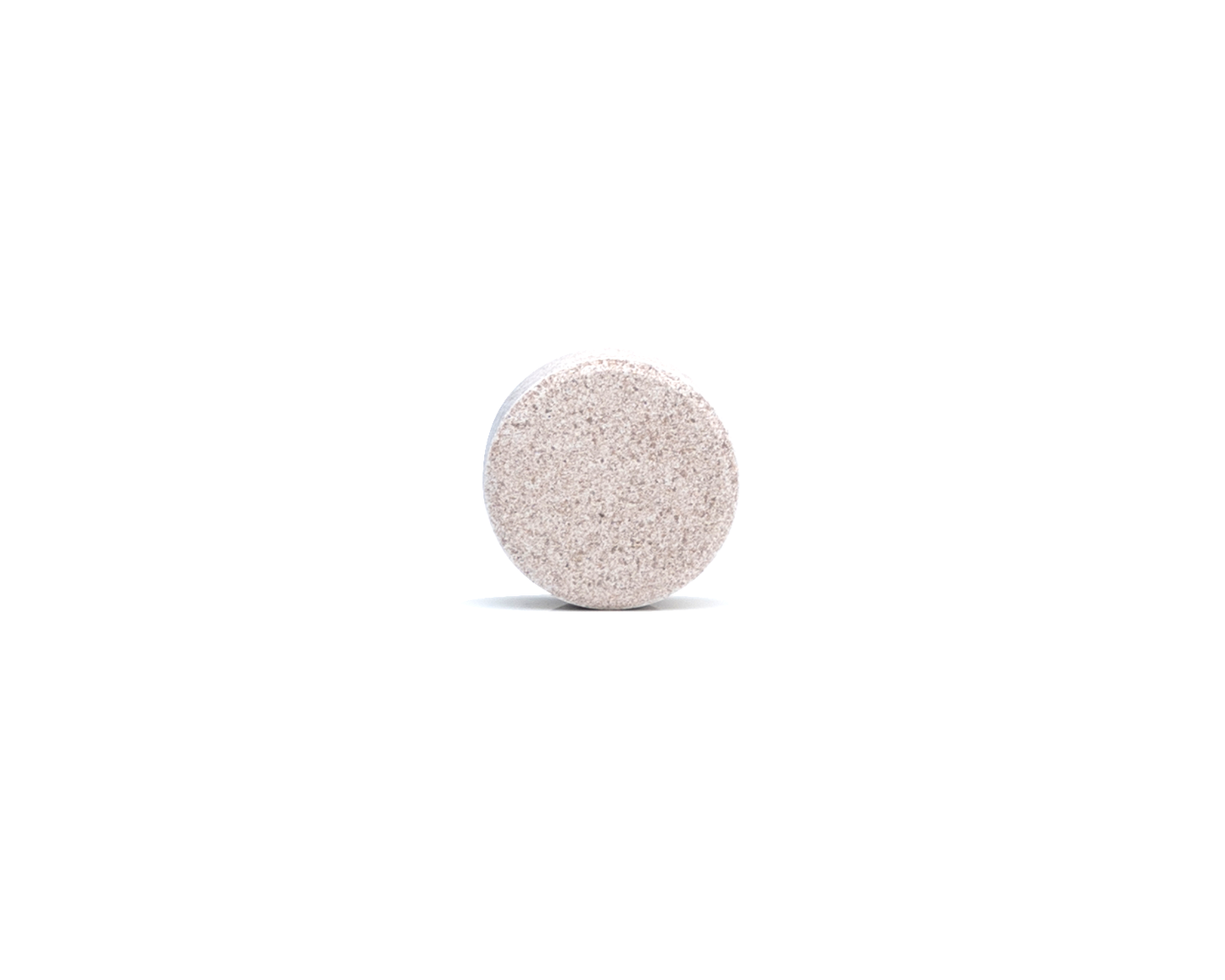 Tasty chewable calcium tablet to support healthy calcium levels Post-Weight Loss Surgery.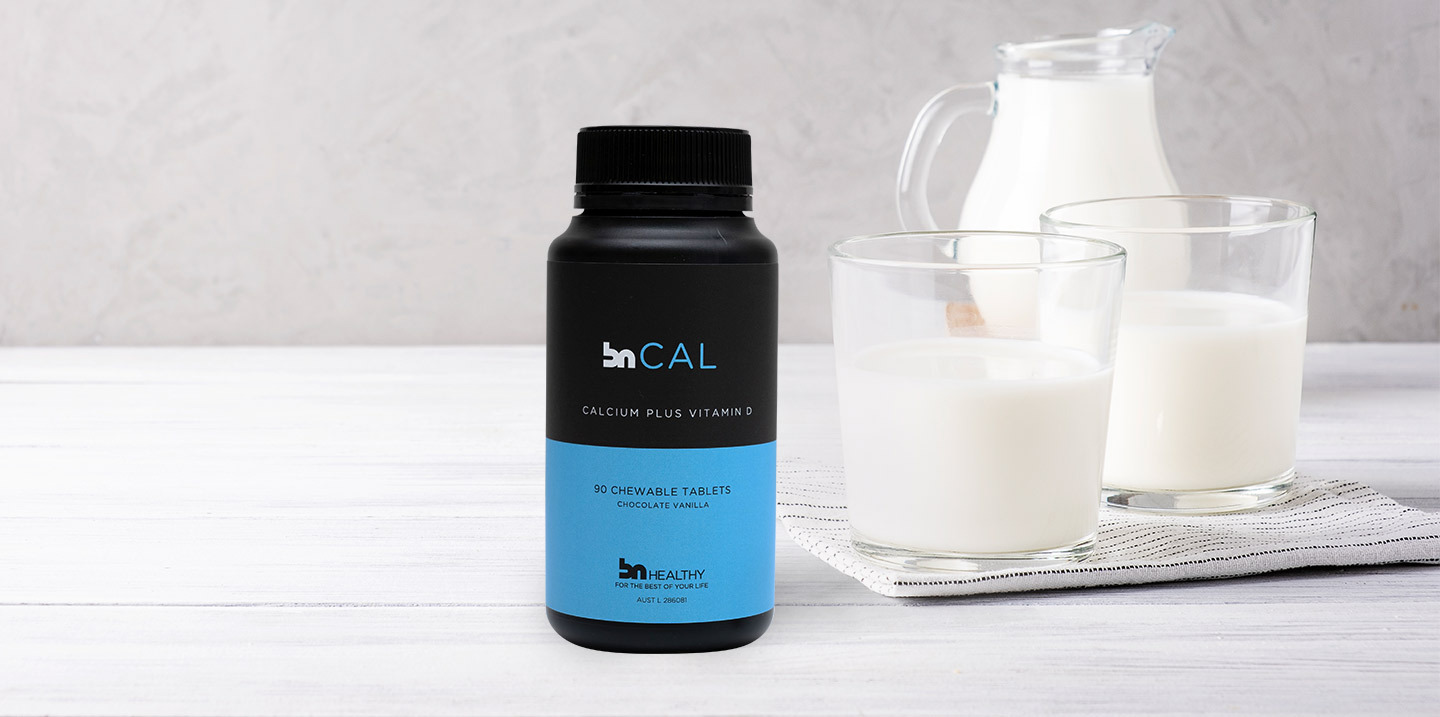 Frequently Asked Questions
Our Qualified Nutritionists are here to help you make the best choice when it comes to you and your health.
Calcium citrate is the best absorb because after WLS, the production of stomach acid is limited, and affects absorption of minerals including calcium and iron. Larger daily intakes are required for life after surgery.
The ASMBS Weight Loss Surgery Nutritional Guidelines indicate WLS patients require between 1300-2500mg daily to maintain healthy bones, teeth and cardiovascular function. Calcium is also required for fat loss.
Due to the restriction in the amount of food after Bariatric Surgery, and the interruption to the absorption of calcium, meeting your needs from food alone is no longer possible. Daily supplementation is required as part of the commitment to maintaining health after WLS.
Long-term calcium deficiency can lead to osteopenia, osteoporosis, dental caries, and is a key player in maintaining regular heart beat.
Yes. When calcium is taken at a dose higher than 400mg - it should be separated from iron supplements or iron rich foods. Anytime over 60 minutes.
Total 5 star reviews: 16
Total 4 star reviews: 4
Total 3 star reviews: 0
Total 2 star reviews: 0
Total 1 star reviews: 0
100%
would recommend these products
Reviewing

BN Cal - Calcium Chewable Tablets

Cheweys

Very easy to take on a daily basis and tasty as well

Reviewing

BN Cal - Calcium Chewable Tablets

Bn Cal

Calcium chewable tablets are great.I like the taste

Reviewing

BN Cal - Calcium Chewable Tablets

Reviewing

BN Cal - Calcium Chewable Tablets

So tasty

I love these. Very palatable when having them with my multivitamin capsules. Thank you

Reviewing

BN Cal - Calcium Chewable Tablets

Does the job

A little bit chalky but does what it says! Gives me the calcium I need.
Reviews Loaded
Reviews Added