May 2022
Chewy Coconut Oat Bars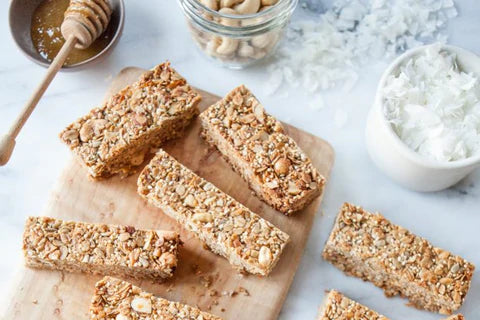 Ingredients
1 1/2

cups

rolled oats

1/2

cup

almonds

can use other nuts

1

tsp

vanilla extract

4

tbsp

maple syrup

1

tbsp

melted coconut oil

2

tbsp

desiccated coconut

1

cup

pitted dates

soaked in boiling water for 15 minutes then drained

1/4 cup peanut butter
Method
These can be enjoyed either raw or baked in the oven.


Pre-heat oven to 150 degrees Celsius.


Line baking tray then set aside


In a bowl, mix together oats, nuts, vanilla, 3 of the 4 tablespoons of maple syrup and coconut oil until well combined.


Spread evenly over baking paper lined tray and pop in pre-heated oven for 10 minutes (keep and eye on it though as some ovens may take a shorter time)


Remove from oven, add coconut, mix together and pop back in oven for up to 10 minutes (again keeping an eye in it)


Remove from oven and allow to cool.


(Leave oven on at this stage if baking the mixture at a later stage)


Blitz dates until they form a sticky ball.


Add peanut butter and remaining 1 tablespoon of maple syrup and blitz again.


Add both mixtures together and combine well.


Press into pan (I used a 20cm x 20cm pan)


At this point you can choose to either leave it raw or bake the mixture.


If leaving raw, place in fridge/freezer to set then remove and enjoy.


If baking, place into the oven which is already at 150 degrees celsius for 15 minutes (keep an eye on it once again due to varying ovens)



Once baked, allow to cool then enjoy.
RECIPE NOTES
104 calories each